Summer can mean only one thing: It's barbecue season, baby.
If you're like me, eating barbecue is a sacred food experience (in fact, I wrote a book about it). But how much do you actually know about barbecue — how it started, how it took shape, and all its different forms? Have no fear: This 'cue crash course will get you up to speed before you can say "Pass the wet wipes."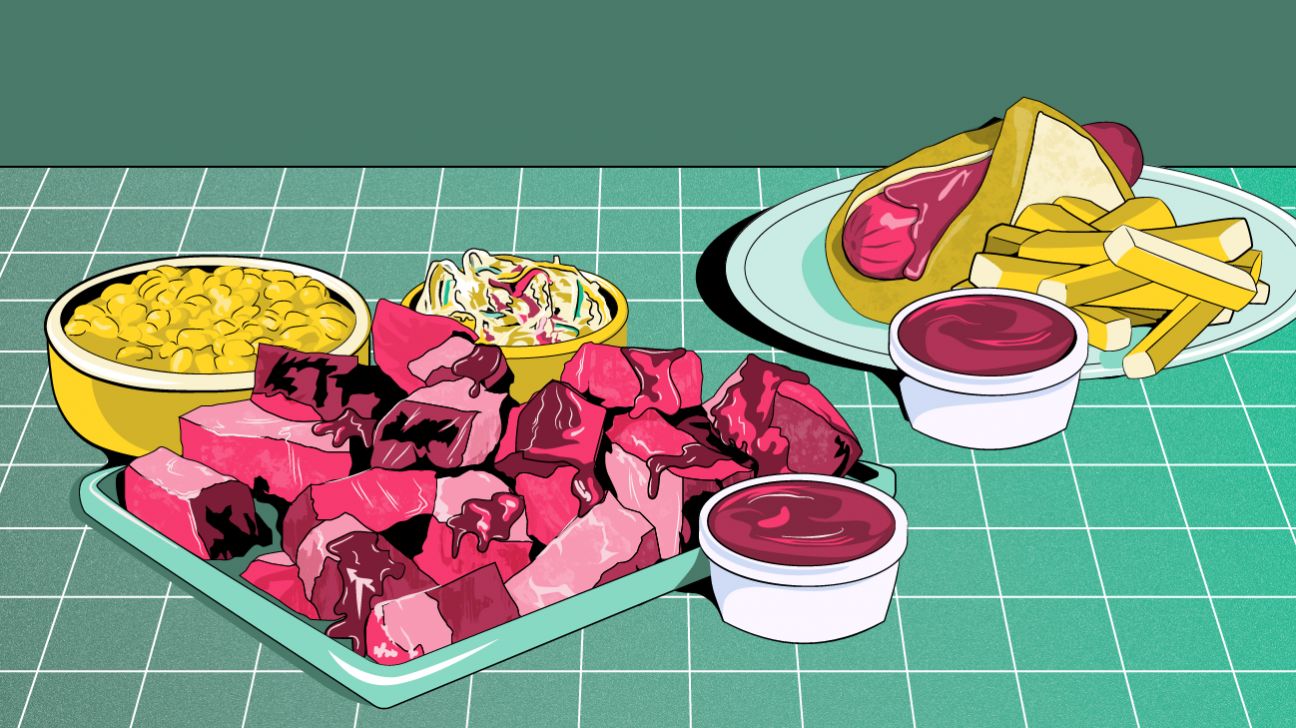 The history of what we think of today as American barbecue began with Indigenous peoples in the Americas.
When Christopher Columbus and his Spanish crew saw Indigenous people cooking food on a raised platform over a slow fire and asked what it was, the Indigenous cooks responded with a word in the Taino language: "barabicu." The crew translated it into Spanish as "barbacoa," which the English then translated to "barbecue."
Europeans ran with the term and used it to refer to the cooking apparatus, the cooking process, and the cooked food. Next thing you knew, "barbecue" was simultaneously an adjective, noun, and verb.
However, the Caribbean raised-platform technique was pretty different from the way barbecue developed in the American South, particularly in Virginia.
There, the ways that Native Americans, European colonizers, and enslaved West Africans cooked and seasoned meat were combined to create a type of barbecue that involved cooking whole animals over a trench filled with burning hardwood coals. At different times, this has been called "Virginia barbecue," "pit barbecue," "Southern barbecue," and finally, just "barbecue."
In time, enslaved West Africans and enslaved African Americans became barbecue's go-to cooks in the American South. Why? Because traditional pit barbecue was a LOT of work. And in the antebellum South, if anyone was going to do menial unpaid (or poorly paid) labor, it was African Americans. Slavery and barbecue spread in tandem from Virginia to other parts of the South.
Barbecue evolved further at the turn of the 20th century, when Southerners started moving from rural areas to cities. In urban areas, pit cooking with whole animals wasn't always practical. As barbecue historian Robert Moss points out, a huge period of barbecue innovation ensued as cooks got creative with smaller cuts like brisket, pork shoulders, and pork spareribs, using artificial pits and manufactured grills.
Many regional barbecue styles took shape during this time, as did the still-ongoing arguments over who makes the best barbecue in the country.
Vocab test: What is barbecue?
Trying to define barbecue is like catching a greased pig, but let's try: Barbecue, I mean reeeaaal barbecue, is cooking meat for a long period of time (at least a few hours) over wood or wood coals.
Cook something for a short period (an hour or less), presumably at a higher heat, and you're just grilling, my friend. Everything else is up for debate.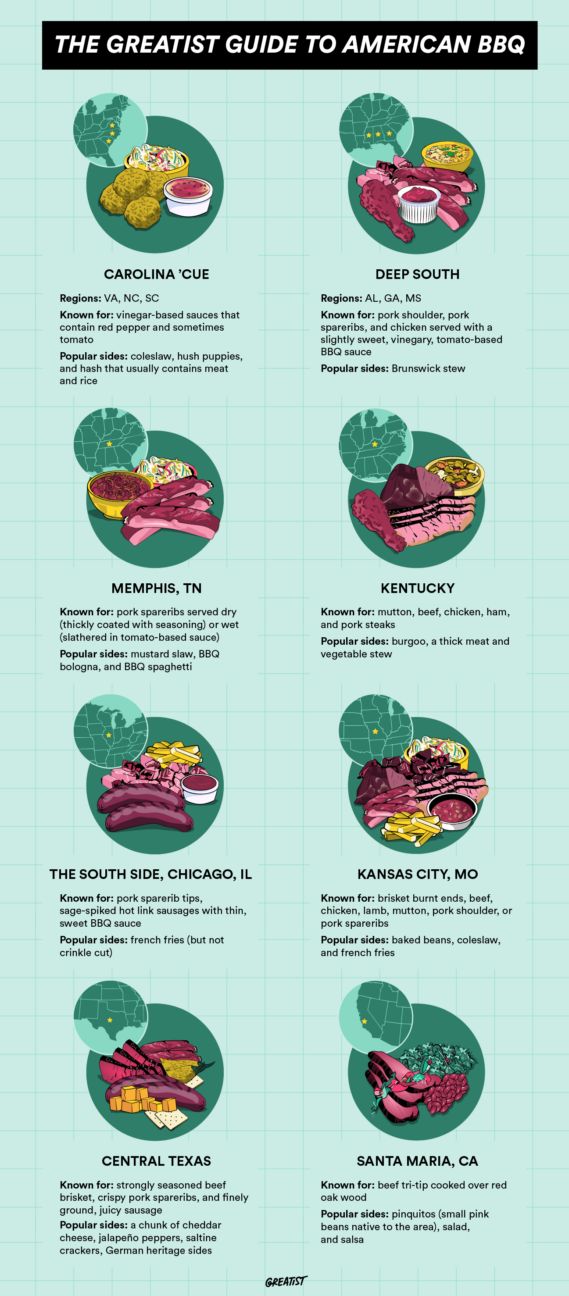 American barbecue has a mouthwatering range of styles, colors, and flavors — and all are worth sampling. Here's a quick dive into the glorious nuances of regional American barbecue.
Carolina 'cue
The place where whole hog and pork shoulder cooking reigns supreme also gets the most attitude. Some won't approve of lumping together Virginia, North Carolina, and South Carolina. Others hate on the pronounced vinegar flavor associated with this type of barbecue, but if that's you, that's probably because you had a botched version of it with vinegar dumped on the meat at the last minute.
In the hands of a barbecue artist, a vinegar-based sauce that contains red pepper, and sometimes tomato, is applied throughout the cooking process in a way that sublimely flavors the meat. In South Carolina, a mustard sauce is also popular. However it's sauced, you'll love the combination of tender meat with subtle smoke flavor and bits of crispy skin.
Popular side dishes: Carolina 'cue is often served with coleslaw, hush puppies (cornmeal fritters), and hash that usually contains meat and rice.
Where to try it: Skylight Inn in Ayden, North Carolina
Deep South
People in Alabama, Georgia, and Mississippi love to grub on pork shoulder, pork spareribs, and chicken served with a slightly sweet, vinegary, tomato-based barbecue sauce.
Barbecue has the thickest drawl in this part of the South because so many traditional regional dishes are served alongside it — think cornbread, greens, macaroni and cheese, potato salad, and peach cobbler. Diners wash it all down with liters of sweet tea so thick with sugar your spoon could stand up straight.
Popular side dishes: Brunswick stew — a medley of chicken pieces, tomatoes, and assorted vegetables — is the specialty here.
Where to try it: Fresh Air Barbecue in Jackson and Macon, Georgia
Memphis, Tennessee
The Bluff City is barbecue's equivalent of Funkytown. So many interesting and unique barbecue items show up on this city's menus, but the two starring attractions are pretty traditional.
Pork spareribs come either "dry" (thickly coated with seasoning) or "wet" (slathered with a thin, sweet, tomato-based sauce). Either way, ribs in this town are often barbecued with charcoal, giving diners a backyard cookout vibe. The other Memphis specialty comes from a stroke of genius: topping a chopped pork sandwich with a mountain of coleslaw.
Popular side dishes: Memphis barbecue is known for its mustard slaw, as well as unusual specialties like barbecued bologna and barbecued spaghetti, where a highly spiced barbecue sauce is substituted for marinara and mixed with grilled meat.
Where to try it: The Bar-B-Q Shop in Memphis, Tennessee
Kentucky
The Bluegrass State's barbecue is often reduced to mutton (sheep), a local specialty in Owensboro, where it's often paired with a Worcestershire sauce-based condiment called "black dip." The state's barbecue tradition is actually much more varied than that — beef, chicken, ham, and pork steaks are just as popular in different parts of the state.
Popular side dishes: One distinctive side dish is burgoo, a thick meat (typically chicken and lamb) and vegetable stew.
Where to try it: Moonlite Bar-B-Q Inn in Owensboro, Kentucky
The South Side, Chicago, Illinois
This heavily African American section of Chicago is frequently overlooked in barbecue coverage.
Though much of Chicago's barbecue scene is an amalgamation of what transplants brought from various parts of the South during The Great Migration, a standardized tradition has emerged on the South Side of the city: succulent pork sparerib tips, sage-spiked and crumbly hot link sausages, crisp French fries, and white bread delightfully submerged in a thin, sweet barbecue sauce.
Popular side dishes: French fries. Sure, other things could be mentioned, but french fries are ubiquitous. People argue as much about the fries as they do the barbecue. (FYI, the conventional wisdom is that crinkle-cut fries are whack because they're usually frozen, not fresh.)
Where to try it: Honey 1 BBQ in Chicago, Illinois
Kansas City, Missouri
Kansas City's barbecue tradition is a true "melting pit," living up to the city's legacy as one of our nation's thriving livestock commerce towns.
Almost anything can wind up on the smoker: beef, chicken, lamb, mutton, pork shoulder (either chopped or sliced), or pork spareribs. Oh, and those beef brisket burnt ends that you've heard so much about…? They were first served in Kansas City at Arthur Bryant's Barbeque Restaurant.
Popular side dishes: This assortment of meats is usually served with baked beans, coleslaw, a copious amount of french fries, and a thick, sweet, tomato-based sauce.
Where to try it: Gates Bar-B-Q in Kansas City, Missouri
East Texas
This is another African American-influenced regional style that doesn't get as much attention as barbecue from the central part of the state does.
Yes, there's beef brisket and pork dishes, but they resist being perfectly manicured and social media-ready. This region's barbecue is messier, often served as piles of chopped meat bathed in a tomato-based sauce. Things can also get spicy, thanks to the Creole influence from neighboring Louisiana.
Popular side dishes: Diners often add a meat-and-rice-filled sausage called "boudain" (an unusual spelling variant from "boudin") or a highly seasoned uncased-meat-and-rice mixture called "dirty rice" to their meal.
Where to try it: Patillo's Barbeque in Beaumont, Texas
Central Texas
Without a doubt, Central Texas barbecue is the hottest barbecue style, proving once again that Texans are the best cheerleaders for their culture.
The magic began in the late 1800s, when central European immigrants brought indirect smoking techniques to the area. What meat they couldn't sell in the meat markets, they smoked and sold during lunchtime. Ranch hands grubbed on strongly seasoned chopped or sliced beef brisket and crispy pork spareribs, and a small, finely ground, juicy sausage called "hot guts" became very popular.
Popular side dishes: Central Texas barbecue is often served with a chunk of cheddar cheese, jalapeño peppers, saltine crackers, and German heritage side dishes like vinegary coleslaw and chunky, bacon-studded potato salad.
Where to try it: la Barbecue in Austin, Texas
South Texas
Yep, Texas appears on this list three times — it's a big state! In southern Texas, barbecue taps into Latino cooking traditions that predate Texas as a country and a state. Local cooks make their version of barbecue by digging a deep vertical hole in the ground and filling the bottom with a combination of burning coals and rocks to retain heat.
Historically, the hole was layered with moist vegetation and meat, buried, and then uncovered hours later. Today, the same is accomplished by digging the hole but instead using metal containers and sheet metal as a cover. A cow's head, known as "cabeza," or a young goat, called "cabrito," are most commonly prepared this way. The result is impossibly tender and well-seasoned meat just waiting for a tortilla.
Popular side dishes: Housemade corn tortillas and salsa with a kick are common South Texas accompaniments.
Where to try it: Vera's Backyard Bar-B-Que in Brownsville, Texas
Santa Maria, California
This is a hyperlocal tradition with no imitators elsewhere in our barbecue nation. As a nod to its ranching heritage, you're going to get a huge chunk of beef tri-tip cooked over red oak wood and seared with a crust of garlic, salt, and pepper.
Popular side dishes: This barbecue meal is rounded out with side dishes of pinquitos (small pink beans native to the area), a salad, and salsa.
Where to try it: The Hitching Post in Casmalia, California
There you have it. Enough information to dazzle anyone during your next cookout conversation. Here's the thing: Barbecue is wonderfully diverse, and its story continues to unfold. Think of this crash course as merely an appetizer, an invitation to more culinary exploration and learning. In other words, grab your bibs and some wet wipes and get eating.
Adrian Miller is a James Beard Award-winning author who lives in Denver, Colorado. Miller is the author of Black Smoke: African Americans and the United States of Barbecue.