Welcome to Good Bagel, home of the Good Bagel. Can we take your order?
We've heard the arguments: Bagels are the devil in the form of refined flour! A single bagel is the equivalent of a whopping four slices of bread! Yadda yadda yadda. And we know, in this gluten-shunning, Paleo-preaching, keto-eating world, bringing up the b-word is pretty ballsy.
But we're going to anyway, because:
A dense, chewy, delicious bagel once in a while never hurt anyone (unless it's used as a projectile, and that's just a waste of a good bagel).
There are whole-grain options that provide fiber.
These 18 healthier bagel toppings are just too good to pass up.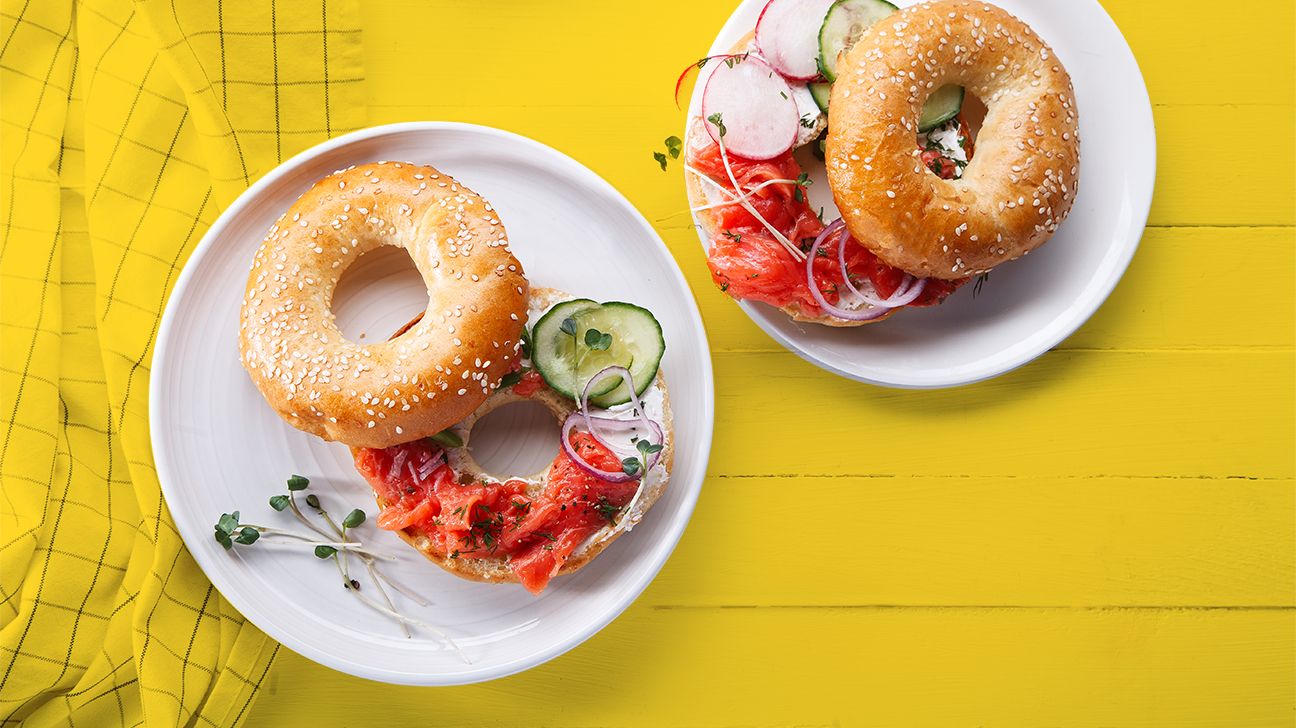 Plus, a world without bagels is one with a gaping hole in it — which, ironically, reminds us of bagels. Which would make us even sadder.
From vegan cream cheese to tomato tapenade, check out these ideas for how best to build — and enjoy — a better bagel.
Sitting on the dock of the bagel…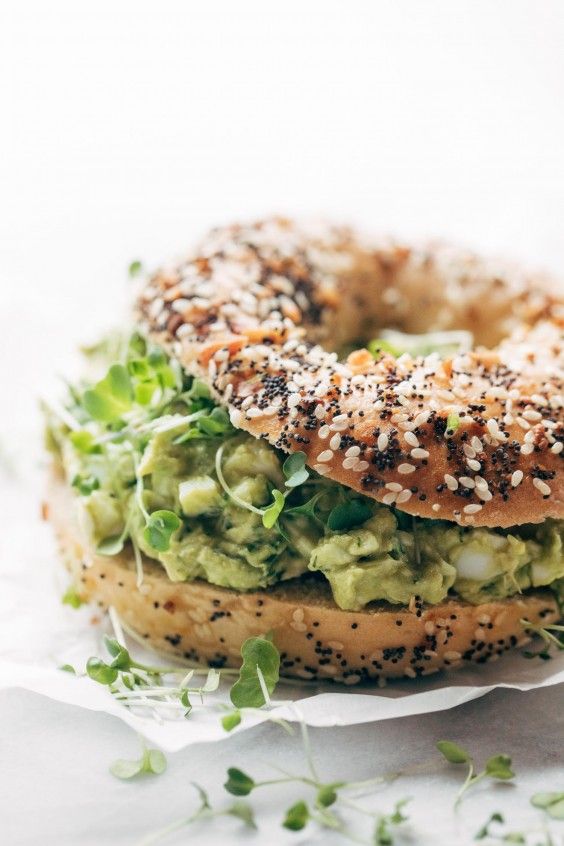 Greek yogurt is usually the go-to substitute for mayo in an egg salad. But if you want to keep things totally dairy-free, give avocado an avoca-go. It goes super well with the lemon and fresh herbs.
Plus, everyone is eating avocado with their eggs these days, so you'll be right on trend.
If you're a lover of all things egg (aside from farts), check out these simple but delicious ways to use hard-boiled bad boys.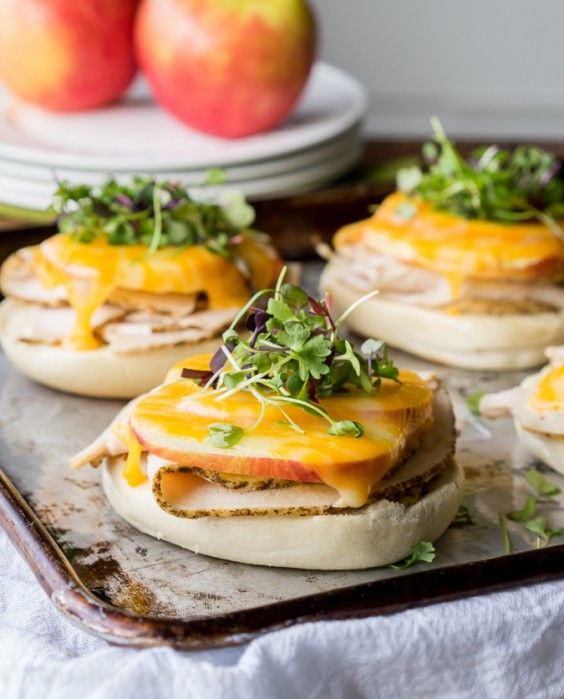 What's better than grilled cheese? Grilled cheese on a gosh-danged bagel. The classic dish gets a sweet, savory, and spicy upgrade with the addition of turkey, apple slices, and horseradish mustard.
These melts are open-faced, so you get all the bagel flavor and satisfaction without having to commit to the carbs of an entire serving.
If you've got turkey still spilling over from Thanksgiving, there are loads of ways to use it — this is just one of them.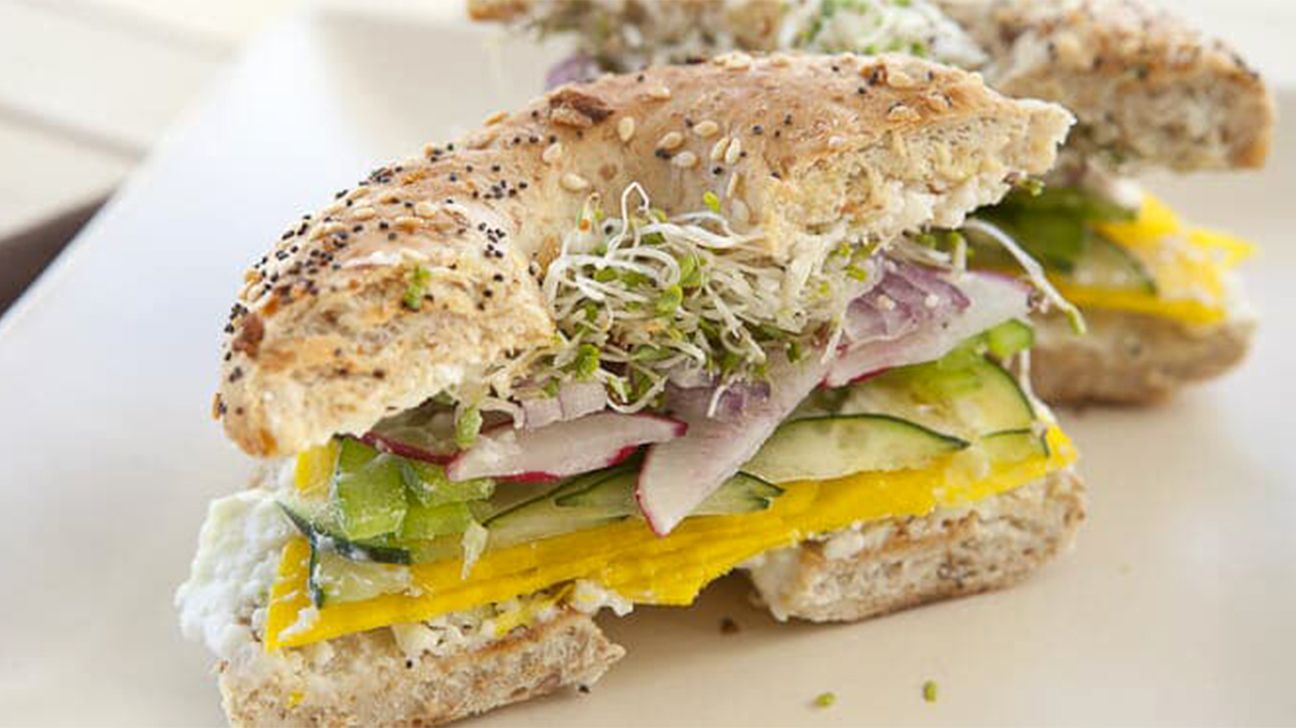 Bagels are a great way to smuggle a whole heap (and we mean heap) of vegetables into your morning routine. No bagel better for this than the Big Veg – the clue's in the name.
Goat cheese, honey, beets, and radishes add all manner of sweetness, sharpness, and smoothness to this concoction. Even the hole, usually a food-less vacuum in the middle of the bagel, is stuffed with sprouts.
Here's how to vegetables the right way.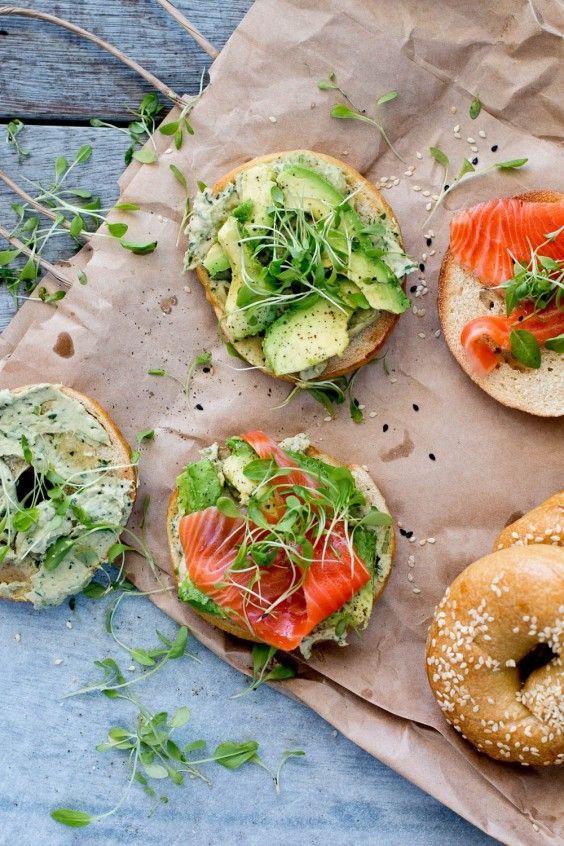 Even if you don't make your bagels from scratch like this blogger does, the topping recipe is an absolute must-try. All you need is a blender to take the chickpeas, coriander, and tahini to nutty, garlicky nirvana.
Hummus is an absolute darling — we found a recipe for the best hummus you've ever tasted.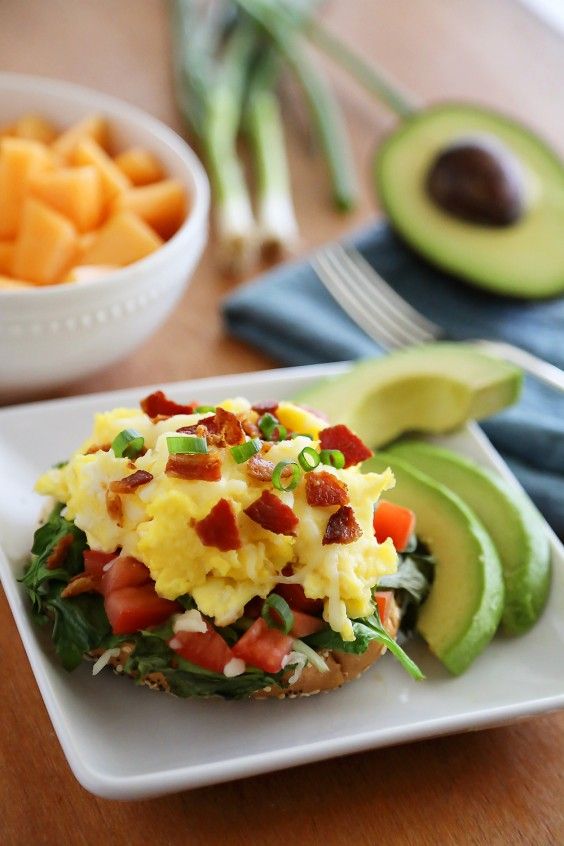 You won't miss the other half of the bagel in these open-faced breakfast toasts. With each one piled high with eggs, bacon, veggies, and cheese, it's a fork-and-knife kind of meal.
We've got plenty more healthy high protein breakfasts where this came from.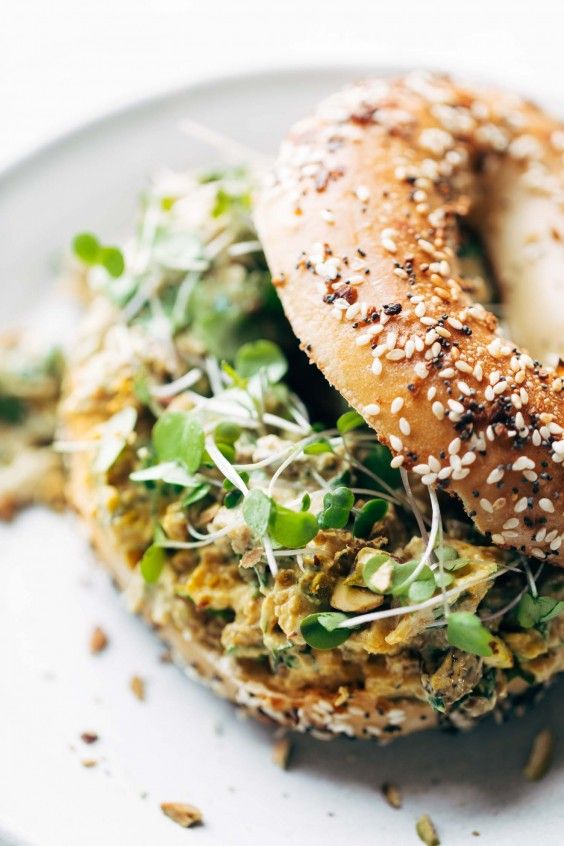 Far from your run-of-the-mill gloppy chicken salad, this one is all about fresh, clean flavors.
With the tangy Greek yogurt standing in for mayo, buckets of cilantro, and even a sprinkling of chopped pistachios for added crunch, this recipe makes for a robust mixture that stands out — yes, even when it's sandwiched between dense, delicious bagel slices.
We love the smell of a simmering curry. Why not try these nine delicious recipes?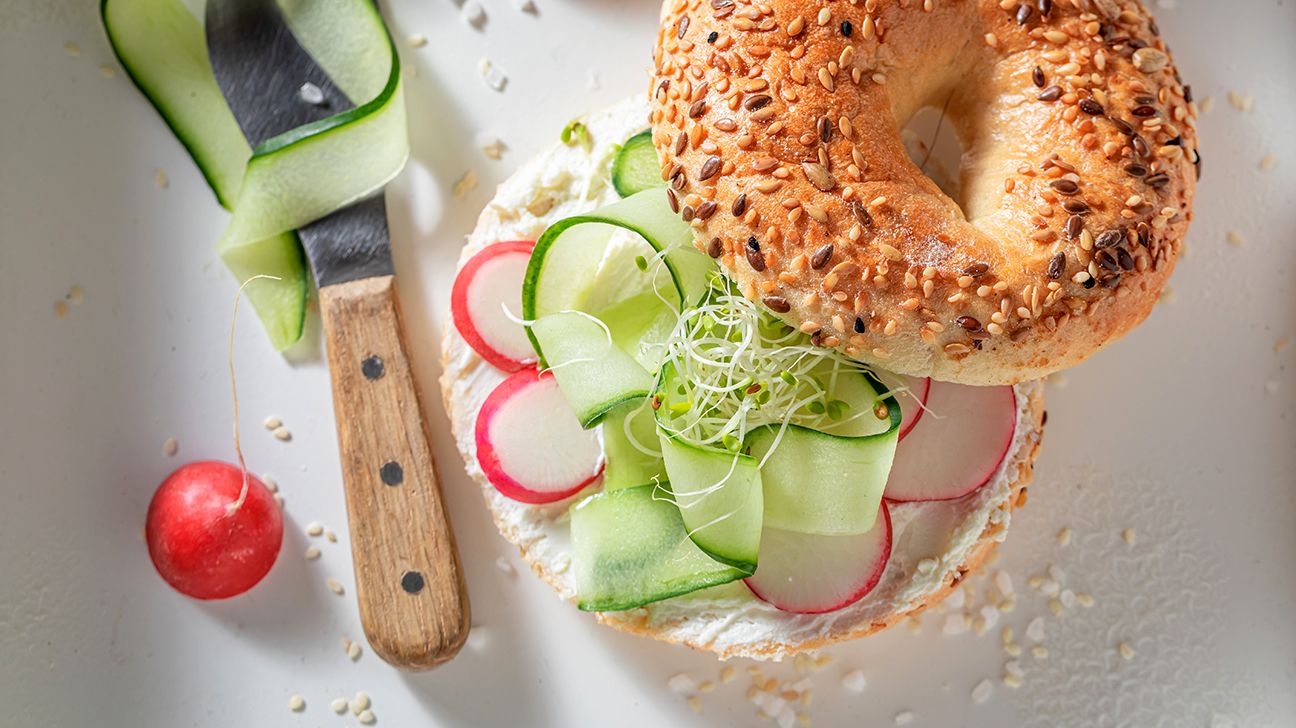 A lotta ricotta provides the smooth texture of cream cheese (but with even more protein) while thinly sliced veggies add the necessary crunch factor. The flavors are subtle but refreshing, and the lemon and parsley brighten everything up.
If you're a ricotta enthusiast, you may well dig the honey-almond ricotta spread in these amazing Mediterranean dessert recipes.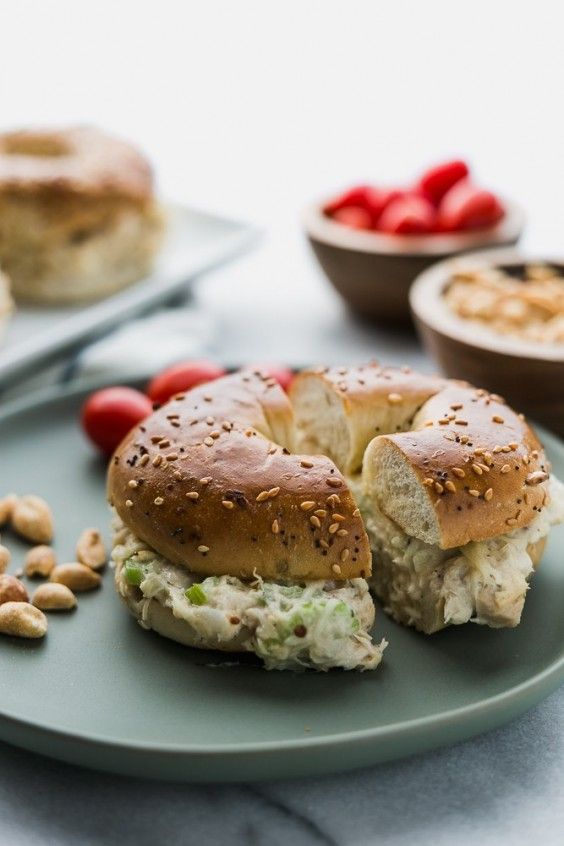 With celery, black pepper, and dill weed, this tuna salad gives you the familiar taste of your school lunches. A sprinkle of shredded Parmesan sneaks in to add that special little something.
The mesmerizing mixture may be tucked into carby bagels, but the fish and cheese can bulk up your protein intake too.
Tuna is a surprisingly versatile little fishy. Make it do your bidding with these meal options.
Vegans needn't go bagel-free.
Pan-fry tofu until it's crispy and then layer it onto bagels with a homemade sriracha and nut butter spread, and you'll have even the biggest soy skeptics salivating.
It sounds (and looks) (and eats) like a mouthful, but it's actually incredibly easy to throw together.
If you're not yet following a vegan diet but thinking about pursuing that animal-free life, we've got you covered.
Even if you eat actual tuna, you need this vegan version in your life.
A concoction of cannellini beans, hummus, chopped veggies, and fresh herbs, it's an excellent, fish-free way to top up on nutrients like protein and magnesium (minus the mercury).
We love a good vegan alternative. Here are 35 recipes that improve on the originals.
Sometimes, the morning doesn't call for a chonky bagel. You may just want to spread, eat, and go. We've got you.
With tangy sun-dried tomatoes, fruity olives, tart capers, and the salty goodness of anchovies, this tapenade fires on all cylinders to satisfy savory cravings. And it doesn't hurt that you can whip it up in just 1 minute in the food processor.
Tapenade is a top-tier dip. Try some others here.
Packaged soy cream cheese can come with unwanted ingredients like sugar and hydrogenated oils.
Keep yours simple with this homemade recipe and enjoy it as you would the regular kind: plain, mixed with scallions, kicked up with jalapeños… you get the idea. It's a versatile beast.
Slathered on a bagel, though? Good heavens. Delicious doesn't always mean dairy.
Plain, unsalted almond butter can border on boring. There. We said it.
But healthy additions like cinnamon, sea salt, and maple syrup transform it into a spread that's perfect for bagels and will give any store-bought jar a run for its money.
If you're a condiment aficionado looking for healthier options, we've got a rundown of the most nutritious ones you can choose.
These homemade recipes let you jazz up your nut butter with sweet and savory seasonings and pump up your jam with heart-healthy chia seeds.
Even better, you can customize them as you like:
Not a fan of honey? No sweat — use maple syrup.
No strawberries in stock? That's nothing. Use grapes.
Allergic to peanuts? Give us a real challenge! Cashews or almonds also work.
Mix and match to your heart's content.
Ahh, lox. The king of bagels.
But if you're gonna layer your salmon on top of your spread anyway, why not cut out the extra step and just mix the two together?
This recipe does just that, but with higher-protein Greek yogurt subbed for some of the cream cheese and shredded cucumbers and dill stirred in for a Mediterranean-inspired twist.
If you prefer your salmon chewable, here are two boss ways to cook it up.
We already know how great avocados are.
Add some plant-based protein to your avocado bagel by blending the fruit with a can of white beans.
The result? A smooth spread that falls somewhere between hummus and guacamole. And what's not to love about that?
With the easy addition of lemon juice and salt, you can turn cashew butter into vegan cream cheese. Stir in your favorite flavorings, slather the whole business onto a toasted bagel, and put your local deli to shame.
If you prefer cottage cheese to cream cheese, we found 24 ways to throw it into eeeeeeeverything.
With a variety of nuts and seeds plus olive oil, this spread has your good fats covered for the day. It also has zero sugar, so it's perfectly cinnamony but not too sweet.
Cinnamon might well win the ultimate spice-off. People of the world, here are 25 more ways to spice up your life.
See? Bagels can go way beyond your Reubens and loxes (although both still reign supreme in our hearts).
Looking to level up even further? Why not try baking them yourself?