Artichokes are a source of fiber and antioxidants, but it's hard to look at a can of these funky-looking veggies and be instantly inspired. This roundup helps you think beyond spinach and artichoke dip (not that it isn't bomb), including recipes for bruschetta, pasta, burgers, soups, and salads.
Whether they're canned in water, marinated in olive oil, or fresh from the produce section, there's an awesome way to prepare these fantastic veggies.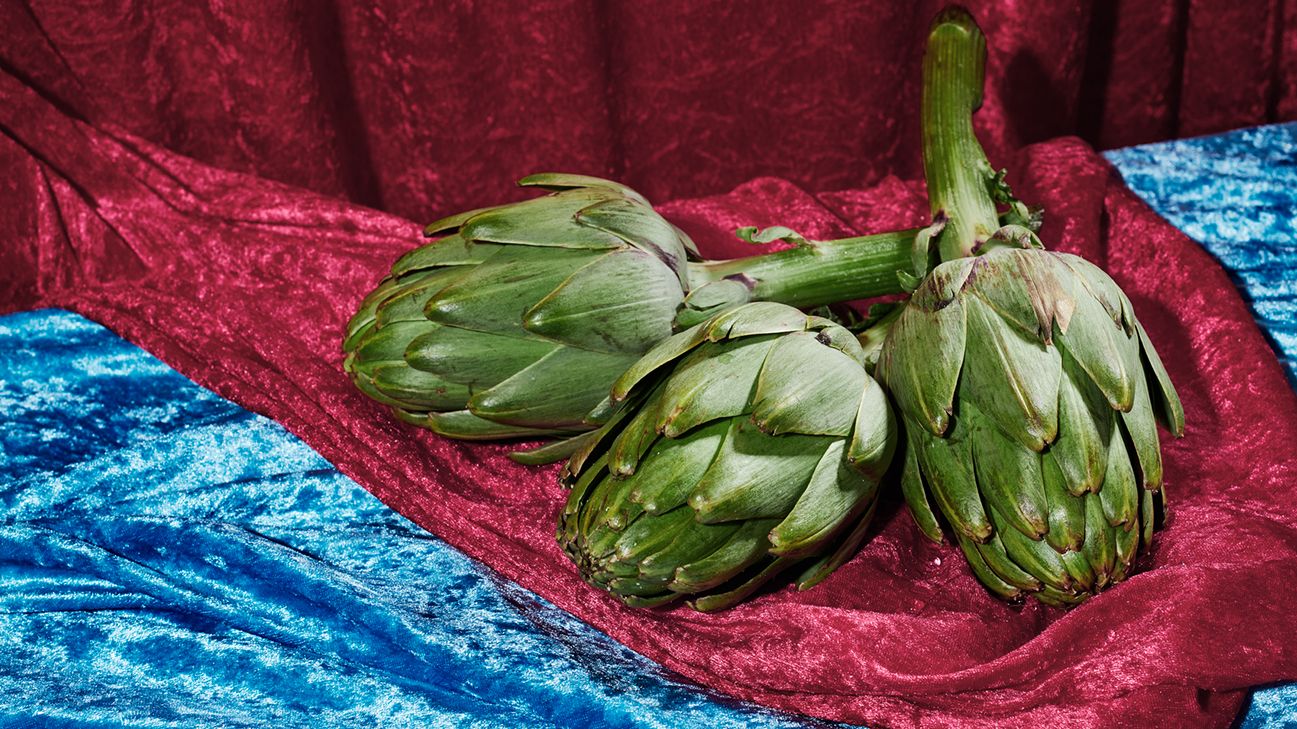 1. Avocado pesto roasted artichokes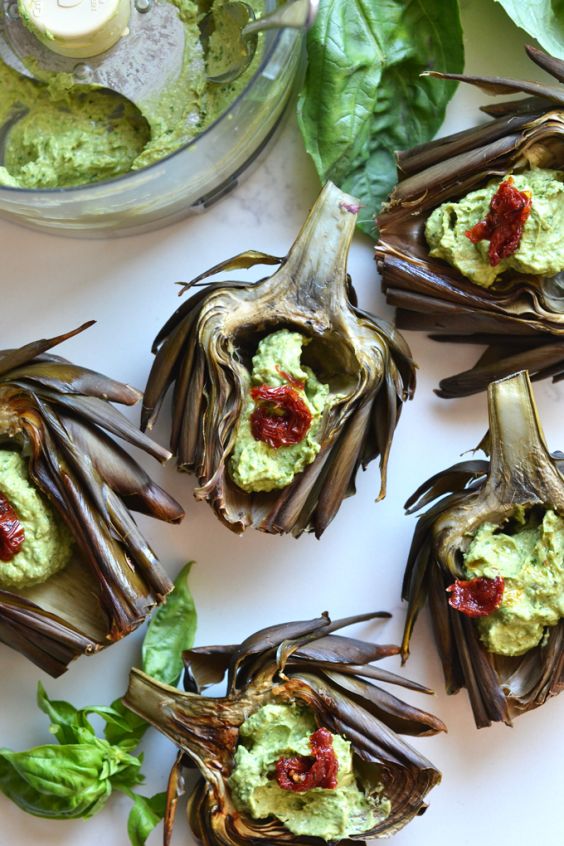 When you're scooping out the inedible central portion of an artichoke, don't let all that empty space go to waste. Fill the cavity with this creamy, cheese-free avocado and walnut pesto. It's a fun-to-eat appetizer that doesn't even require a plate.
2. Italian stuffed artichokes
No baby artichokes allowed here — the bigger, the better for this stuffed appetizer. Not only do they make an impressive statement to kick off a meal, but they allow for much more of that buttery, bread crumby, cheese filling in each bite.
3. Overloaded bruschetta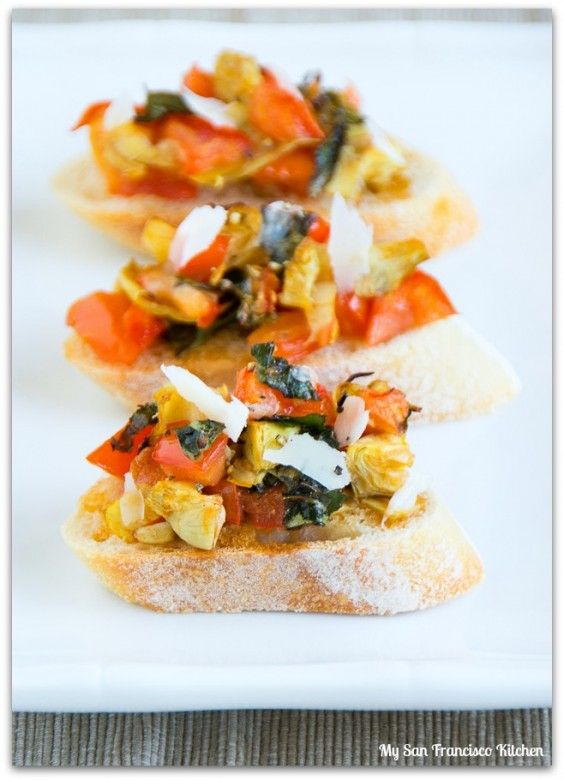 Piled high with chopped tomato, basil, and artichoke hearts, these baguette slices are not your average bruschetta. Pro tip: Make the topping ahead of time so that the ingredients get a chance to meld into each other and really make for a flavor overload.
Grab the recipe for your meal plan here.
4. Homemade artichoke hummus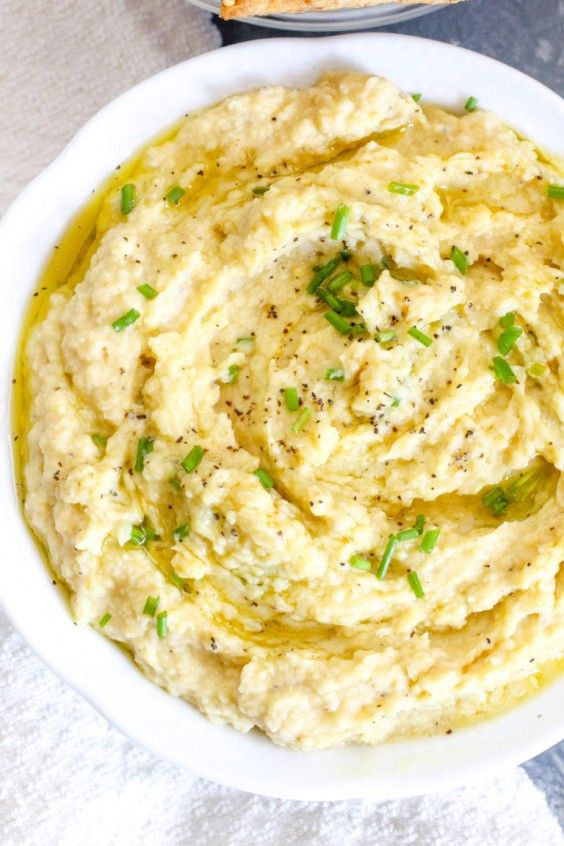 We know we said not too many dips in this roundup, but we promise, this is one veggie-packed hummus you don't see too often at the store — or anywhere else, for that matter. Made with canned chickpeas, canned artichokes, and olive oil, this 10-minute recipe is a perfect example of the power of pantry staples.
Learn the steps to make it here.
5. Roasted artichokes with creamy cashew aioli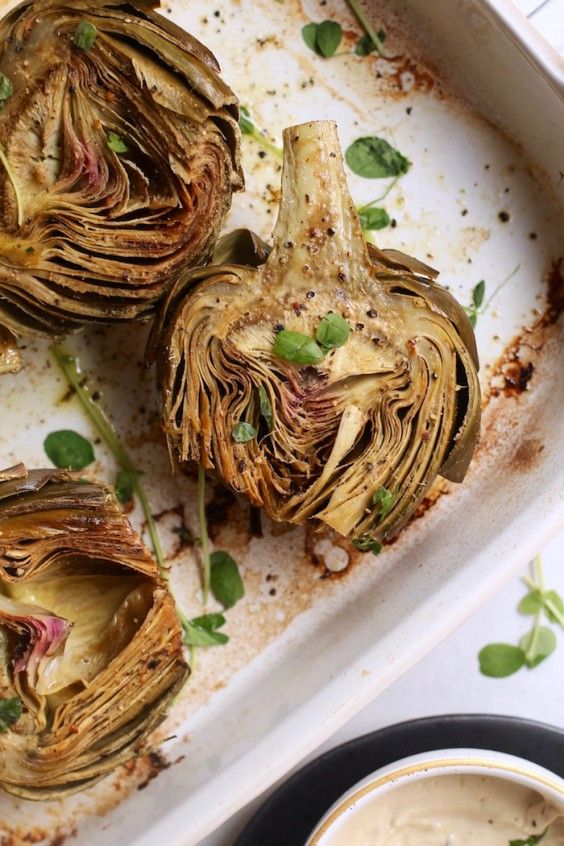 It's not uncommon to find artichokes steamed and served with a mayo-based aioli, but this blogger tweaks the classic appetizer by roasting the vegetable and ditching the dairy for a cashew-based dipping sauce. Everything about this is easier and tastier than the original recipe.
6. Antipasto rollups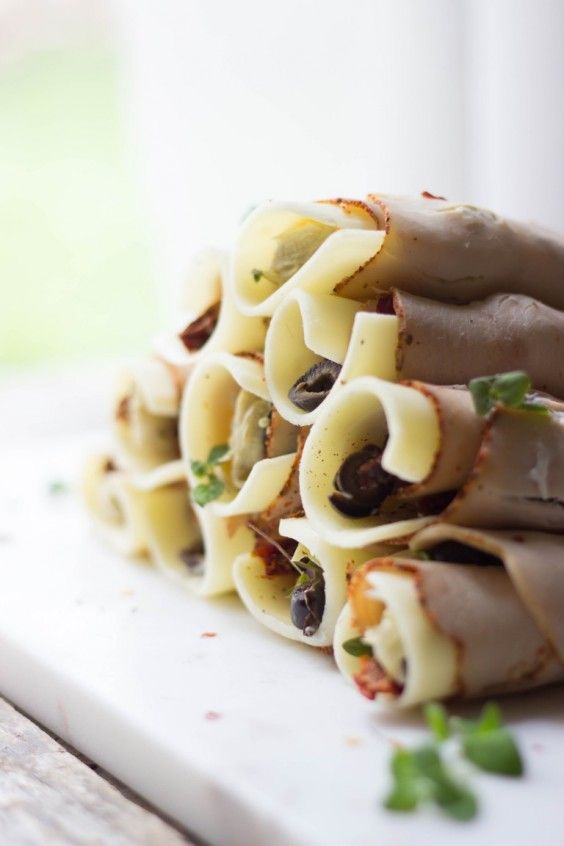 Try these savory bread-free pinwheels the next time you're feeling snacky, where marinated artichokes, black olives, and sun-dried tomatoes lend plenty of flavor to the ham and cheese combo. Light but protein-packed, a few of these could even pass for a low carb lunch.
7. Roasted artichoke salad
Despite the sprinkle of capers here and slivers of roasted red peppers there, this salad is really all about the artichokes. Drizzled with olive oil and roasted until perfectly golden, all they need is a light vinaigrette and they'll be ready to overshadow the main dish at any table.
8. Mediterranean Cobb salad
This healthier Cobb salad swaps out traditional iceberg lettuce, bacon, and chicken for a meatless mix of feta cheese, roasted red peppers, and olives. But even with all its robust fellow ingredients, there's still no upstaging the artichoke hearts, which manage to make their presence felt with their distinctive look and unique taste.
9. Chicken artichoke lemon soup
Artichoke hearts bring an extra tangy twist to this Bulgarian-inspired comfort dish. Packed with rice, chicken, veggies, and even eggs, it may fall under the soup category, but it passes as a full meal on its own.
10. Israeli couscous salad with artichokes and olives
This salad may have fewer than 10 ingredients, but each one, from the garlic to the basil to the tangy marinated artichokes, brings so much to the table that you really don't need to bother with additional items. Bonus points if you use whole-wheat couscous for even more fiber.
Add it to your meal plan with this recipe.
11. Jerusalem artichoke and carrot soup
Kinda starchy and almost spud-like, Jerusalem artichokes are perfect for giving this soup a thick, hearty texture without the need for actual potatoes (or dairy, for that matter). Pair them with carrots, celery, and parsley for a soup that proves just how healthy plant-based eating can be.
12. Artichoke salad with goat cheese
Welcome spring (or reminisce about it, at least) with this bright, fun salad. With hard-boiled eggs and goat cheese for protein, veggies in several shades of green, and artichoke hearts for saltiness, it delivers in the flavor, appearance, and nutrition departments.
13. Creamy vegan artichoke soup
Cauliflower florets provide bulk and slivered almonds lend some satiating fats, but the mild, slightly lemony flavor in this soup is all thanks to more than 4 cups of artichokes. Rich and silky smooth without a hint of actual cream, this is more nutrient-dense than any condensed cream-of-anything you'd get in a can.
14. Garlic asparagus and artichoke pasta
All it takes is some garlic and lemon to liven up canned artichokes in this five-ingredient pasta — a perfect example of how veggies really don't need a ton of doctoring up to taste amazing. It doesn't matter whether you're working with the scraps of your fridge or you're cooking to impress — this is your dish.
15. Chicken artichoke olive skillet
Chicken and veggies may sound like a pretty basic meal, but not when you're getting creative with the spices and produce. Boasting artichokes and olives, plus cumin, turmeric, and cinnamon to flavor the meat, this eclectic skillet is anything but bland.
16. Greek spaghetti squash bowls
With squash, spinach, bell peppers, and of course, artichokes, these veggie-packed "bowls" make getting your fiber both easy and delicious. Ground turkey lends a healthy bit of protein too, making this a perfect low carb meal on nights when you want something not as heavy as a pasta and more filling than a salad.
17. Lemon artichoke baked salmon
A garlicky lemon and artichoke mixture is both the side and the marinade for this ridiculously easy salmon dinner. It doesn't get simpler or more nutrient-dense than this.
Get started on this dish here.
18. White bean artichoke burgers
When your fridge is looking bare, frozen veggie burgers might be your go-to solution, but why compromise with processed soy when you can make something even better with pantry items? These patties don't require much more than rolled oats, canned artichokes, and canned white beans, and take maybe 5 minutes longer than reheating a frozen patty.
19. Jerusalem artichoke risotto
Creamy, savory risotto that's also healthy for your gut? Bet you never thought that could be a thing, but this recipe makes it possible. Using prebiotic-rich Jerusalem artichokes, bone broth, and lots of kale, this dairy-free risotto manages to combine all the richness of comfort food with plenty of nutrients.
20. Smoked Gouda and turkey artichoke quesadillas
No more picking between a salad and a grilled cheese. Packed with smoky Gouda and tons of veggies, including meaty artichoke hearts, these quesadillas satisfy even the pickiest eaters, and the addition of ground turkey gives them that decisive boost from appetizer to entree status.
21. Shrimp and artichoke cakes
If your stomach is saying yes, but your wallet is saying no to crab cakes, opt for these shrimp-based patties instead. They're less expensive and score more points for managing to sneak in a full can of artichokes, so don't think of this as a consolation prize. It's actually an upgrade.