The air fryer might well be the savior of your fall menu. Maybe it's the cold weather that sparks a hankering for warm, hearty, comfort eats. When the dog days of summer give way to chillier fall, foods like wings and fries start looking especially delicious.
Thanks to the air fryer
, it's totally possible to enjoy not only your classic fried dishes like crispy potato wedges and falafel, but also a range of other goodies, like pizza, tacos, and even dessert. Turn to these air fryer
recipes to keep you full, happy, and filled with nutrition.
Yes, there is a healthier way to eat Buffalo wings. And a whole lot else.
1. 10-minute whole-wheat pita bread pepperoni pizza
When it's a little nippy outside, the idea of staying home with a movie and pizza is just *so* much more appealing than going out. Plus, with the COVID-19 pandemic still around, it's probably the safest option.
Make it even more enjoyable with these customizable pita-pizzas, where you can control exactly how much sauce, cheese, and pepperoni you want.
And there's no need for a pizza stone or even an oven to make them, either. The air fryer has 'em ready in less than 10 minutes. Take that, oil!
2. Chicken wings with Buffalo sauce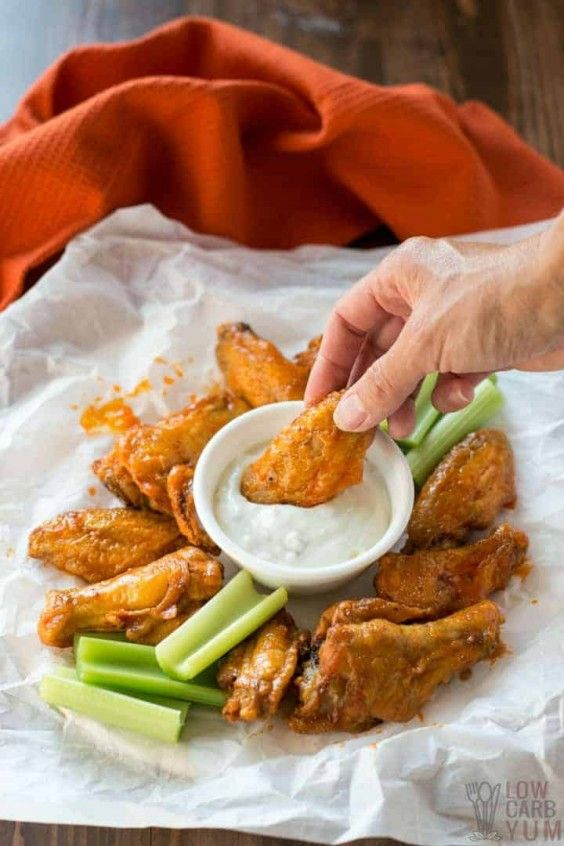 With fall comes football season. With football season comes heaps of food that heads straight for your arteries.
But instead of being that person who brings veggie sticks to game night (and there's always one), you can instead impress your friends and family with spicy, air-fried chicken wings coated in homemade Buffalo sauce.
You're the only one who has to know they're healthy. 🤭
3. Cilantro ranch sweet potato cauliflower patties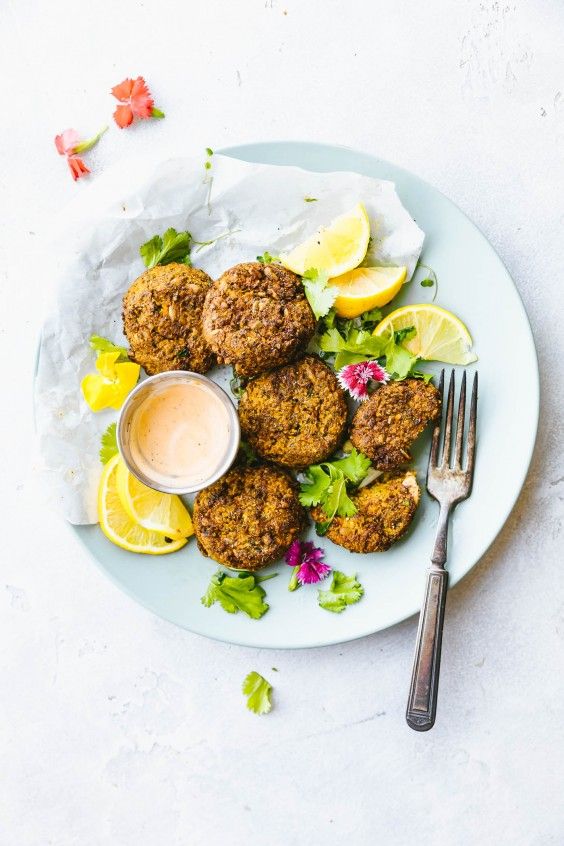 Take 2 of fall's best seasonal ingredients, combine them in an air fryer, and turn them into cumin-and-cilantro-flavored patties fit to put on salads, in wraps, or just on a plate all by themselves.
Or a throne. They're pretty damn good.
The ranch seasoning kicks up the flavors a notch, while pumpkin seeds add crunch and even more fall-inspired flair.
4. Tempura-style vegetables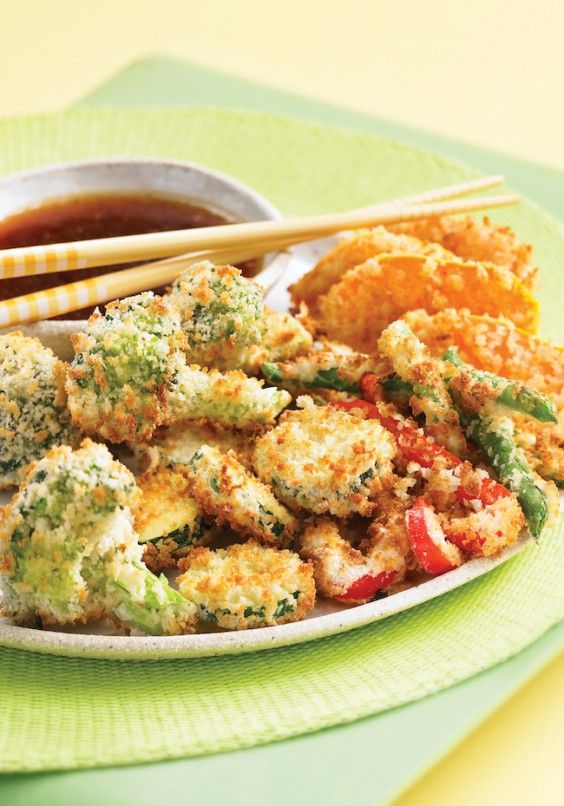 Not in the mood for a cold salad when there's a chill in the air?
Usually, a plate of fried vegetables wouldn't exactly be an appropriate alternative. But the air-fryer method absolutely minimizes how much oil they soak up — so these tempura veggies could be a totally viable salad swap.
Lightly coated in Japanese-inspired bread crumbs and egg before getting tossed in the air fryer, they're crunchy, light, full of fiber, and the absolute bomb with your favorite dipping sauce.
5. Whole Greek chicken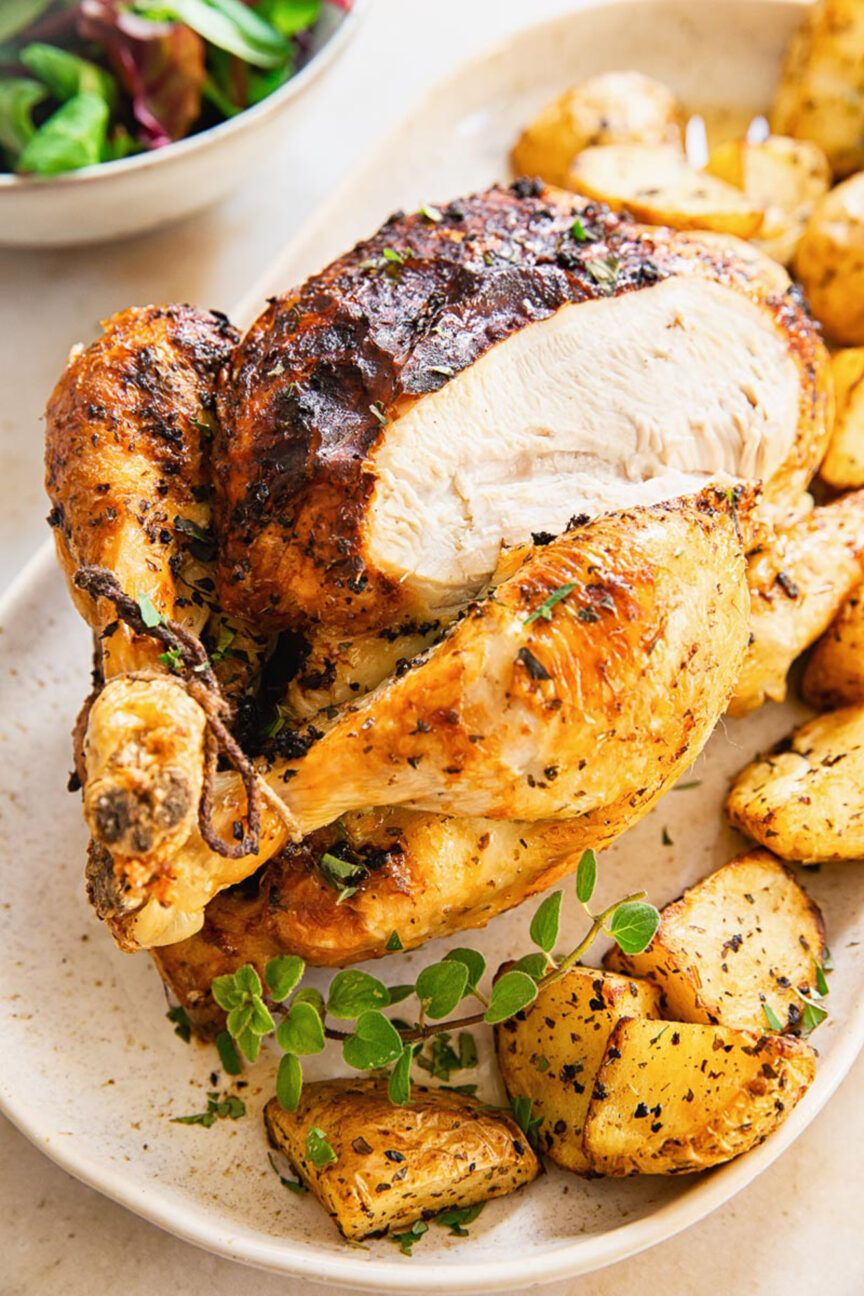 With Thanksgiving and other holidays peeking around the corner, you know full well that you might end up roasting a bird for people you love.
But you can then kiss goodbye to most of your morning, as some birds take ages to achieve that golden brown, festive texture.
No more! Just 40 minutes in an air fryer gets this garlicky, lemony chicken an express ticket to your belly. Serve this air-fried bad boy alongside a sweet potato mash or roasties for all the brownie points you can muster.
6. Smoky beer-battered cauliflower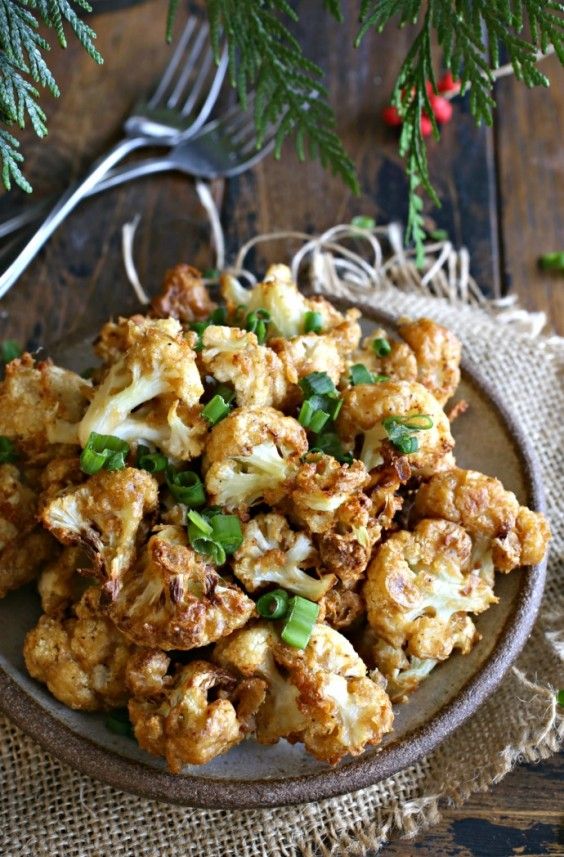 Because if you're going to have cauliflower, why shouldn't it be covered in beer?
While cauliflower is a year-round source of deliciousness for everything from pizza crust to rice these days, let's not forget that this veggie is at its peak in the fall.
Rather than use it as a disguise for carbs, this recipe puts cauliflower clear in the spotlight. Dredge the cauliflower heads in smoked paprika, garlic, cheese, beer batter, and air fry them until they're golden brown.
7. Brussels sprout tacos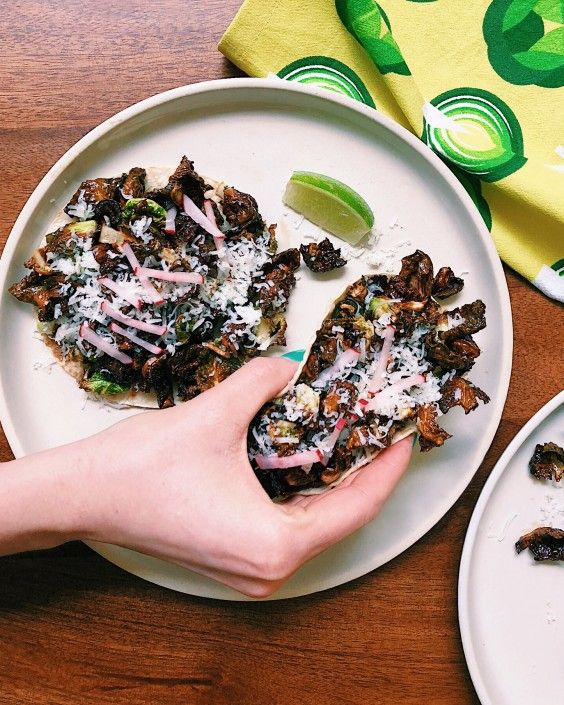 Brussels sprouts are practically synonymous with fall/winter/your holiday roast, but no one wants to eat them boiled.
Instead, let the air fryer cook them until they're charred and crispy, then toss them into tortilla shells with a sweet and tangy balsamic honey sauce. You'll never call Brussels sprouts boring again.
8. Vegan onion rings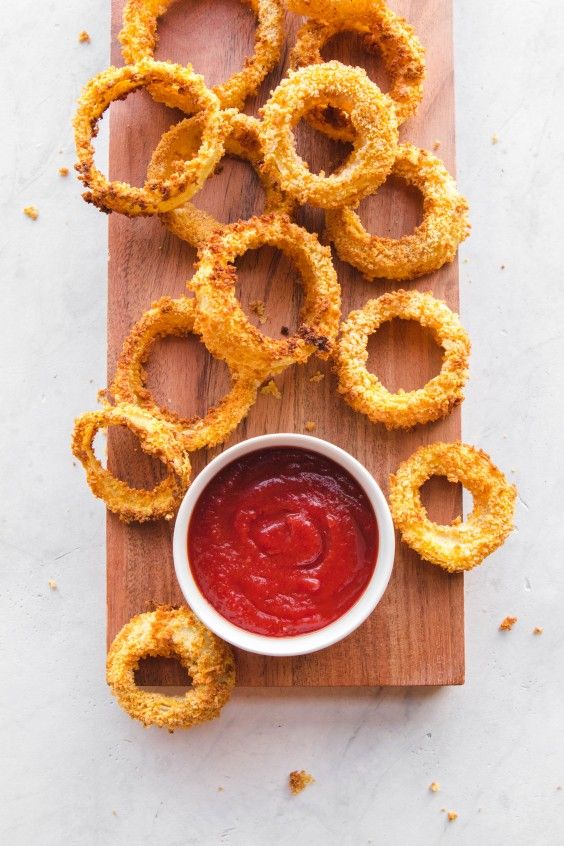 Need a tailgating snack that satisfies hungry eaters but also meets your criteria for healthy munchies?
These onion rings are your answer.
Not only do they require zero oil thanks to the air fryer, but by using plant-based milk, nondairy bread crumbs, and no egg, these golden, crispy bites are also totally vegan.
9. Sweet potato and black bean taquitos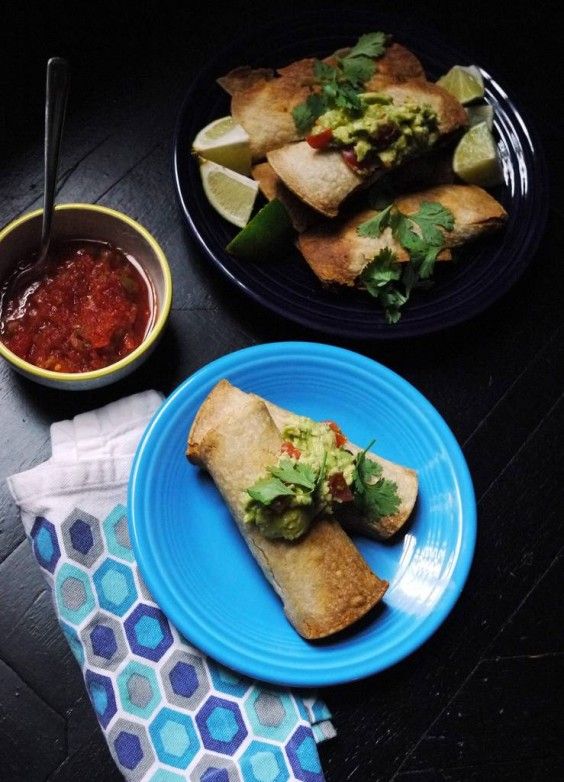 With this recipe, you'll use the air fryer to both cook the sweet potatoes and to crisp up the assembled taquitos.
With black beans and cheese entering the fray, these completely ace as a satisfying, plant-based meal.
10. Keto lasagna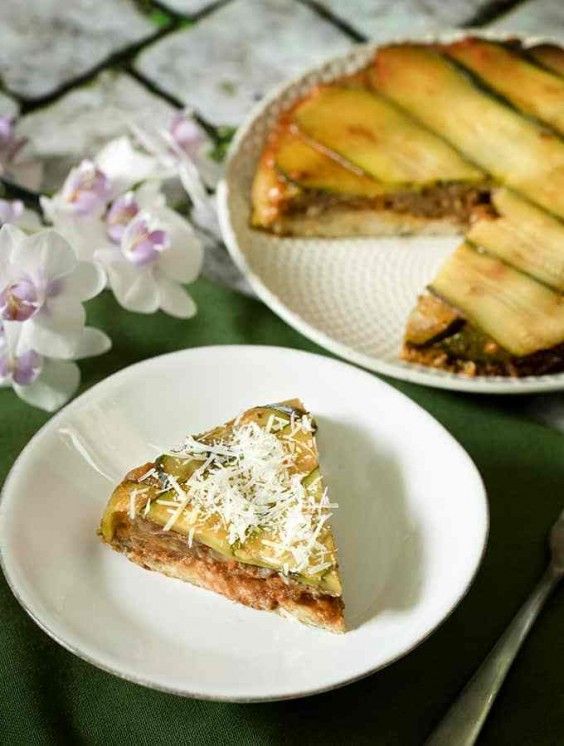 Get in touch with your inner Garfield by lazing about during the chilly fall months and knocking up an amazing lasagna — but with a carb-free twist.
Fall is a perfect time for warm and filling pasta dishes, but this lasagna recipe gives you an internal hug without the carbs.
In the absence of noodles, zucchini slices are layered with sausage, marinara (make sure it's free of added sugar), and cheese (duh), then baked in the air fryer (yep, it bakes too!) until the whole thing is browned and bubbly.
11. Falafel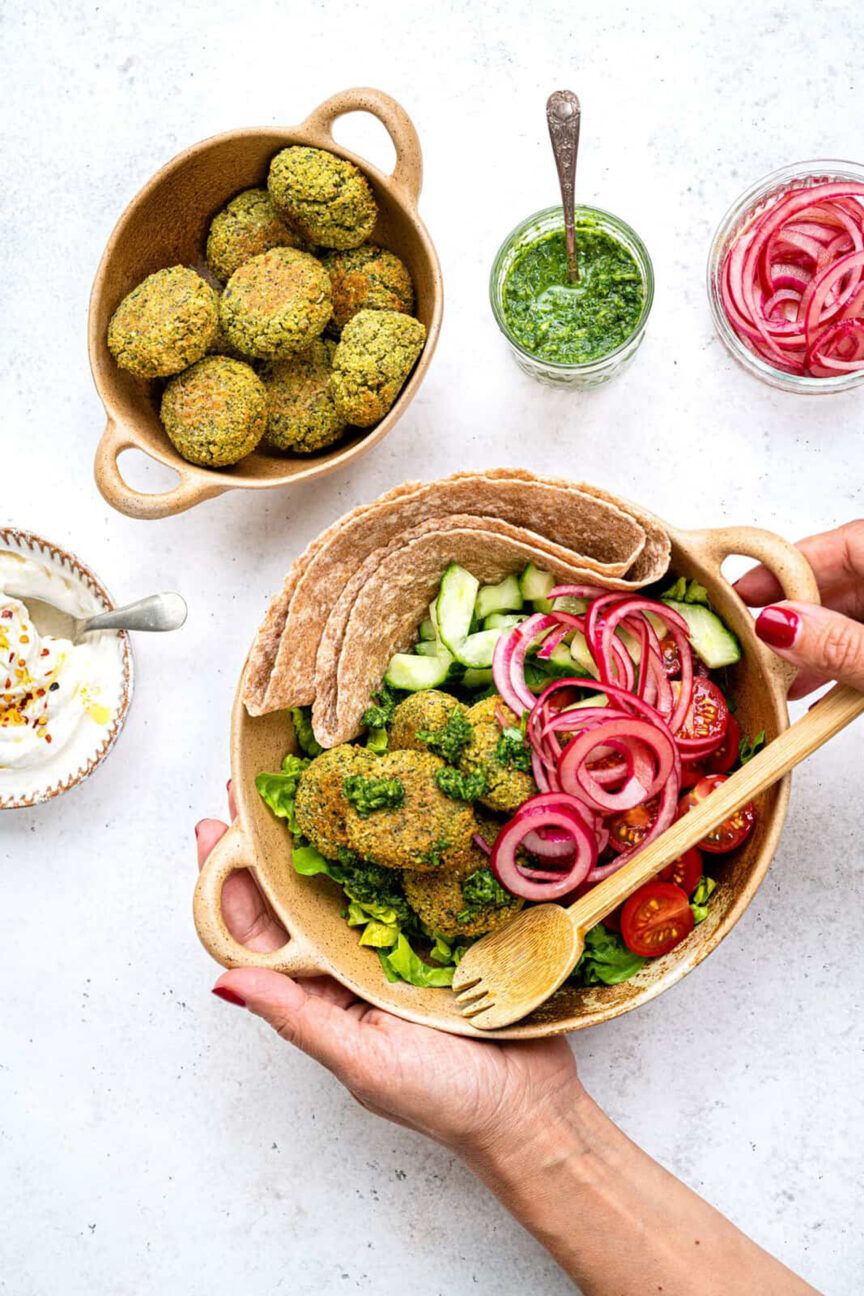 Falafel is so hearty that it's staggering to us that it doesn't make more of an appearance during fall — but we stand by it.
Plus, you can combine it in almost every meal or turn it into burgers. Chili, cilantro, cumin, cardamom, and garlic make this a spicy, flavorsome, warming fall treat.
They can be a side or a main, and you can freeze them for later. So, why not whip up a batch and store them? It's as simple as making the patties/balls and putting them in the air fryer.
12. Cheesy potato wedges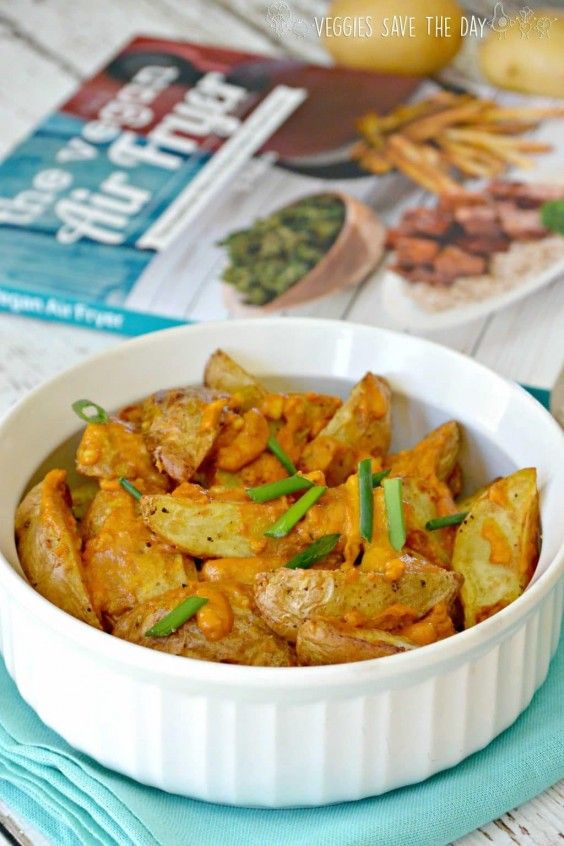 Warm and hearty, these un-fried potato wedges fit the bill for a perfect cold weather snack or side.
You can make them crispy in the air fryer with just a teaspoon of oil, and they're then generously drizzled in a nondairy cashew "cheese" sauce that's much more heart-healthy than any spray cheese you'll ever find.
You can win game day without even offering up unhealthy food.
Yep, air fryers can even do that. Pick that jaw up off the ground, and get it around some dope eats.
13. Vegan blueberry apple crumble
With warm stewed fruit and a buttery streusel-style topping, a crumble is perhaps the quintessential fall dessert. And you can totally use your air fryer to make an amazing one.
This low sugar recipe makes use of both fresh apples and frozen berries for the base, while a vegan brown rice flour topping keeps the dessert gluten-free.
It's a perfect cozy treat for two.
14. Apple cinnamon dessert empanadas
You may know empanadas as fried envelopes filled with meat and cheese, but once you try these sweet and spiced pockets, you may actually prefer the dessert version of the usually savory dish.
With no dough to roll out, just a touch of raw honey for sweetness, plenty of fresh apple flavor (yep, we love apples), and zero oil, they're easy, healthy, and super tasty all at once.
15. Air-dried sweet potato dessert fries
Lightly tossed in coconut oil, dusted with cinnamon and sugar, and air-fried until crispy, this is how sweet potatoes should always be eaten.
They're at their sweetest in the fall, making this a try-now-or-wait-a-whole-year dessert treat.
We've never met a french fry we didn't like, but these might just top the pile. And then go straight inside our faces.
16. Small-batch brownies
If any dessert on this list is going to get you brownie points…
Self-control tends to vanish to the wind around a batch of brownies (especially… erm, special ones). If you can't bake brownies without eating them all in a day (we've been there) (a lot), this recipe may be exactly what you need.
Not only does it make a small batch for managing your portions, but it's also much healthier, with no eggs, oil, butter, or gluten. So, really, you could technically eat the whole thing and still come out feeling pretty good.
But save some for your buddies. Go on.
17. Homemade strawberry pop tarts
With back-to-school season in full swing once fall hits, it's all about easy breakfasts. Ideally those you can grab and go when you're running late.
Yielding 6 servings that last all week, this recipe evokes your favorite childhood toaster pastry and is way healthier than the packaged kind, thanks to reduced-sugar jam, Greek yogurt, and reduced-fat cream cheese.
18. Chonut holes
Is it a churro? Is it a donut? No-nut. It's a chonut.
It's as if the noble air fryer was tailor-made for this dessert: A glorious fusion of churros and donuts, two typically oily, fried confections.
But the chonut has all the cinnamon, sugary coating, and flaky dough of both worlds, and thanks to air frying, none of the grease.
More like woahnut.
19. Coconut-crusted cinnamon bananas
Coconut and banana sound more like a summer combo.
But wait up! Put those flowery shorts/shirts/bikinis back in the dresser. Serving these bananas warm with a hefty pinch of cinnamon makes this recipe autumnal as all heck.
Dipped in eggs and tapioca flour, these fruity bites are a ridiculously simple way to satisfy a sweet tooth while still feeling like you're indulging in a far richer treat.
While the slow cooker may be the go-to appliance for both autumn and winter dishes, the air fryer may be a new gadget to add to your comfort food arsenal. Air fryers are versatile, quick, easy, and affordable.
These 19 recipes are just to get you started. Here are more amazing air fryer recipes to keep you inspired.