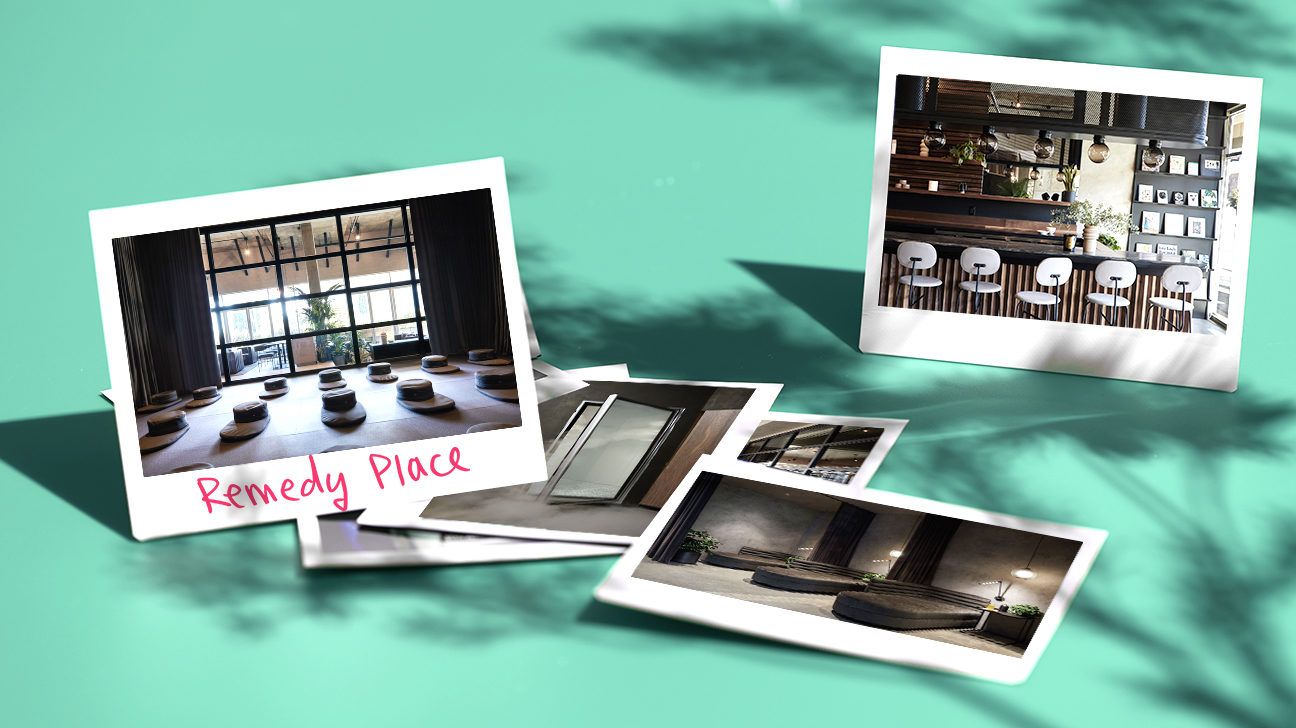 Picture this: You're going on a first date. But instead of grabbing a drink, your date takes you to get a nutrient-rich IV drip. It costs over $200, but hey — as long as your date is paying.
Depending on the kind of person you are, that might sound either very hip and modern or… a little over the top. But can we agree it's at least intriguing? Because for anyone who wants to socialize in a curated place with muted colors, minimalist design, and smooth surfaces everywhere, well, welcome to Remedy Place, a new LA spot.
Needle phobia be calmed, though. Most of the treatments offered at Remedy Place don't involve breaking the skin. Some even come with a guided meditation, loaded onto an iPad, to soothe you as your mind works to understand what's happening during the session.
Think of Remedy Place like a spa, but instead of working on your hair, skin, and nails, you're focusing on holistic physical wellness.
Their treatments include hyperbaric oxygen chambers, cryotherapy, lymphatic massage, saunas, and breath work. There's a bar, too, but instead of alcohol, it serves wellness shots, CBD-infused kombucha, and nonalcoholic cocktails featuring nootropics and adaptogens.
In many ways, what Remedy Place offers is a form of sexified health that leans into New Age-y roots. Hyperbaric chambers may be a celebrity obsession as of late, but they're used clinically to treat people recovering from burns or other serious injuries by making more oxygen available to the body to help optimize its natural self-healing processes.
And while cryotherapy, breath work, and saunas all have a spa-like connotation, some of the services offered are straight-up medical.
For instance, the "movement therapy" offered is essentially physical therapy. Visitors can also undergo testing for food sensitivities, among other things, to better learn about their bodies. That, of course, should be information meant for your personal use only.
If you're not ready to share the intimate details of your microbiome just yet, Remedy Place offers many other options that let you chat and get your wellness on, like taking a friend to an ice bath. What a bonding experience that would be!
When Dr. Jonathan Leary founded Remedy Place, his hope was to make certain kinds of wellness treatments less clinical and more luxurious, as well as social. It's easy to see how a place like this, located in West Hollywood, would resonate with health-conscious types who are trend-aware and Instagram-friendly. And there's a lovely fragrance permeating the whole place.
While the membership, at $495/month, isn't exactly widely accessible, it's not required to use the services.
Believe it or not, Remedy Place is on the average-to-"affordable" end of the spectrum for LA facilities offering these treatments. The nutrient drips run about $220 each, and hyperbaric therapy and lymphatic drainage massage are $160 and $150 per hour, respectively (and also available by the half-hour).
Of course, that's not the kind of money anyone can drop regularly. Leary and his team recognize that this is a luxury for most people, outside the bounds of what insurance will cover. But they believe knowledge of how to care for one's body should be accessible, which is why they also offer weekly socials and group classes at their bar.
Group classes, like meditation and breath work, start at $30. When it comes to finding the answer to the age-old question "Can you sit in silence together?", this might be a steal.
And Remedy Place is probably onto something here. As a skeptic who generally prefers to avoid discomfort such as needles and being cold, I was surprised to find myself thinking, "You know, maybe an IV drip would be a fun way to catch up with friends every now and then." A little intense for a first date, maybe, but I know at least one of my friends is a self-care fanatic and would be extremely down.
What can I say? It looks like a trendy hotel and smells like a Malin + Goetz shop. I might not only agree to get poked by a needle there, but actually enjoy it.
While anyone who exercises or breathes LA air could benefit from hyperbaric therapy or movement therapy, Leary's team also regularly reserves a few spots for those recovering from serious injuries or major surgeries. These people may reach out or be referred to Remedy Place but can't afford the treatments out of pocket.
In fact, Remedy Place is declining comped spots to influencers so as to make more of these subsidized treatments available to the people who need them most. That awareness of our need for connection is ultimately what makes Remedy Place so appealing.
IV drips, physical therapy, and even hyperbaric therapy on the surface don't have the indulgent draw that, say, mud baths and pedicures do, nor do they have the relaxed and inherently social atmosphere of bars or coffee shops. But Remedy Place makes these semi-medical treatments actually seem… fun, like something you might want to do as your next big activity for a self-care night out.
Ariana DiValentino is a writer, filmmaker, and actor based in Los Angeles. Follow her on Twitter.