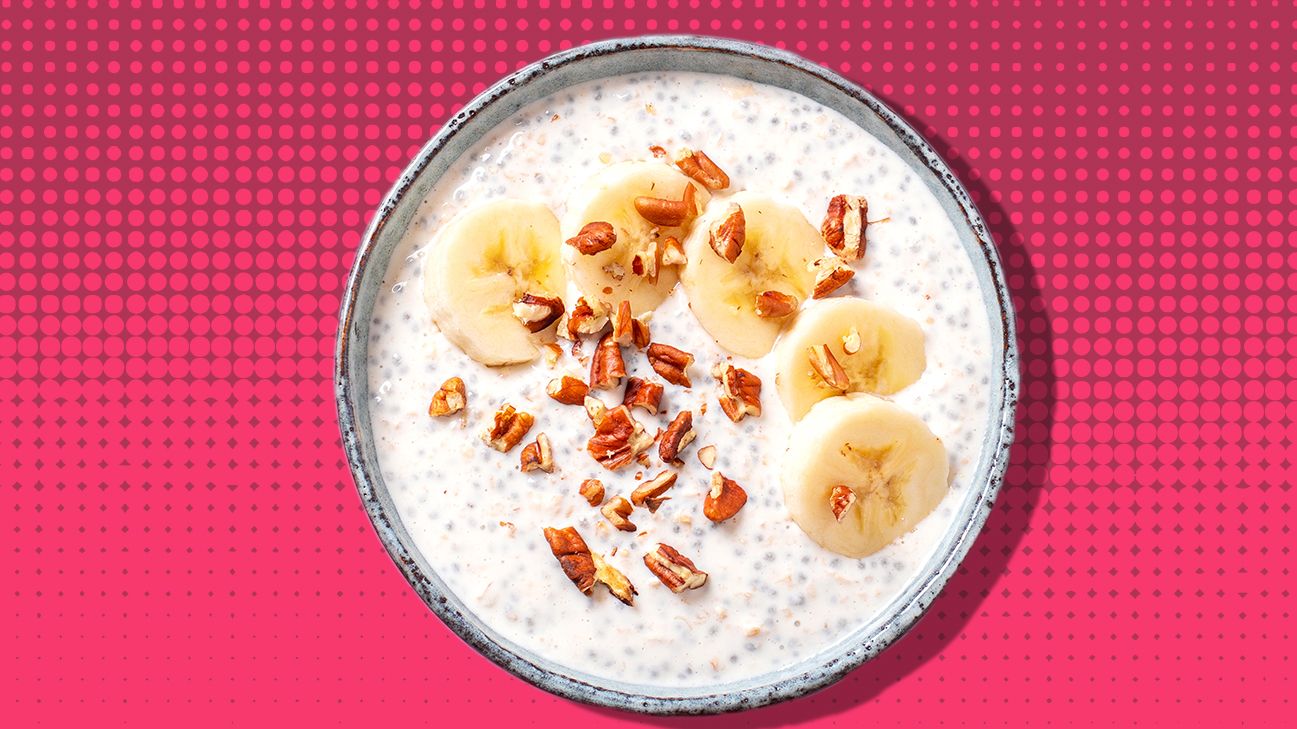 One of the best ways to manage Crohn's disease is to understand how food affects you. Nutrition not only impacts Crohn's disease symptoms but can also help prevent serious complications like weight loss and malnutrition.
That's why learning how to cook Crohn's disease-friendly recipes can go a long way in your care plan. While no single diet works the same way for everyone, certain foods and cooking techniques tend to be easier on the gut for those living with Crohn's disease.
Cooking should be simple (and fun), regardless of your dietary needs.
Here are six Crohn's disease-friendly recipes that are easy to make for breakfast, lunch, and dinner. They're sure to keep you satisfied and feeling your best all day long.
These recipes are intended to be used when you are NOT in a flare. Keep in mind that you may need to substitute any ingredients that may be triggers for you.
Banana overnight oats
Oatmeal is often an easy-to-eat food for people with Crohn's disease, and it's a healthy (and filling) option for breakfast. One of the easiest ways to make oatmeal is via overnight oats — you simply combine all the ingredients in a mason jar and refrigerate the mixture overnight.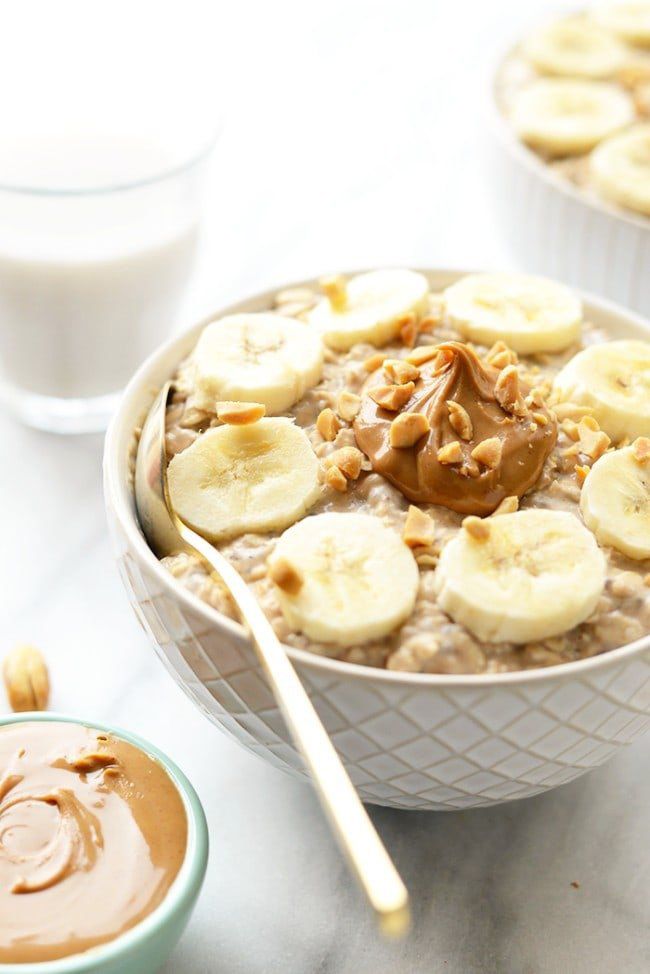 Because dairy can be a trigger for flares or symptoms, consider using a lactose free milk like Lactaid or Fairlife, or soy milk, which may be easier on your stomach. Bananas are also low FODMAP and Crohn's-friendly.
"FODMAP" is an acronym for:
Fermentable: can be broken down by gut bacteria to produce gas
Oligosaccharides: a type of carbohydrate found in wheat, rye, onions, legumes, and pulses
Disaccharides: lactose (found in dairy)
Monosaccharides: fructose (found in honey, apples, and high fructose corn syrup)
Polyols: sugar alcohols such as sorbitol, mannitol, and xylitol
The aim of a low FODMAP diet is to cut out a group of sugars that may not be well absorbed by your GI tract.
Start to finish: 10 minutes
Makes: 2 servings
Ingredients
1 cup old-fashioned rolled oats
1 cup milk of choice (like soy milk or lactose-free dairy milk)
2 teaspoons stevia
1 teaspoon vanilla extract
1 banana, sliced
1 tablespoon natural peanut butter (or nut butter of choice)
Instructions
Combine oats, milk, stevia, and vanilla in a small bowl and whisk together.
Divide mixture evenly between two mason jars.
Top each jar with sliced banana and drizzle peanut butter over the top.
Refrigerate for 4 or more hours. Enjoy hot or cold.
Avocado toast topped with scrambled eggs
For a more savory option, consider easy avocado toast with a twist — adding scrambled eggs on top for a boost of protein and nutrition. Eggs are high in omega-3 fatty acids and vitamins A, D, and E.
To make this dish super friendly for Crohn's disease, opt for sourdough or gluten-free bread, both of which are great when it comes to managing flare-ups or keeping symptoms at bay.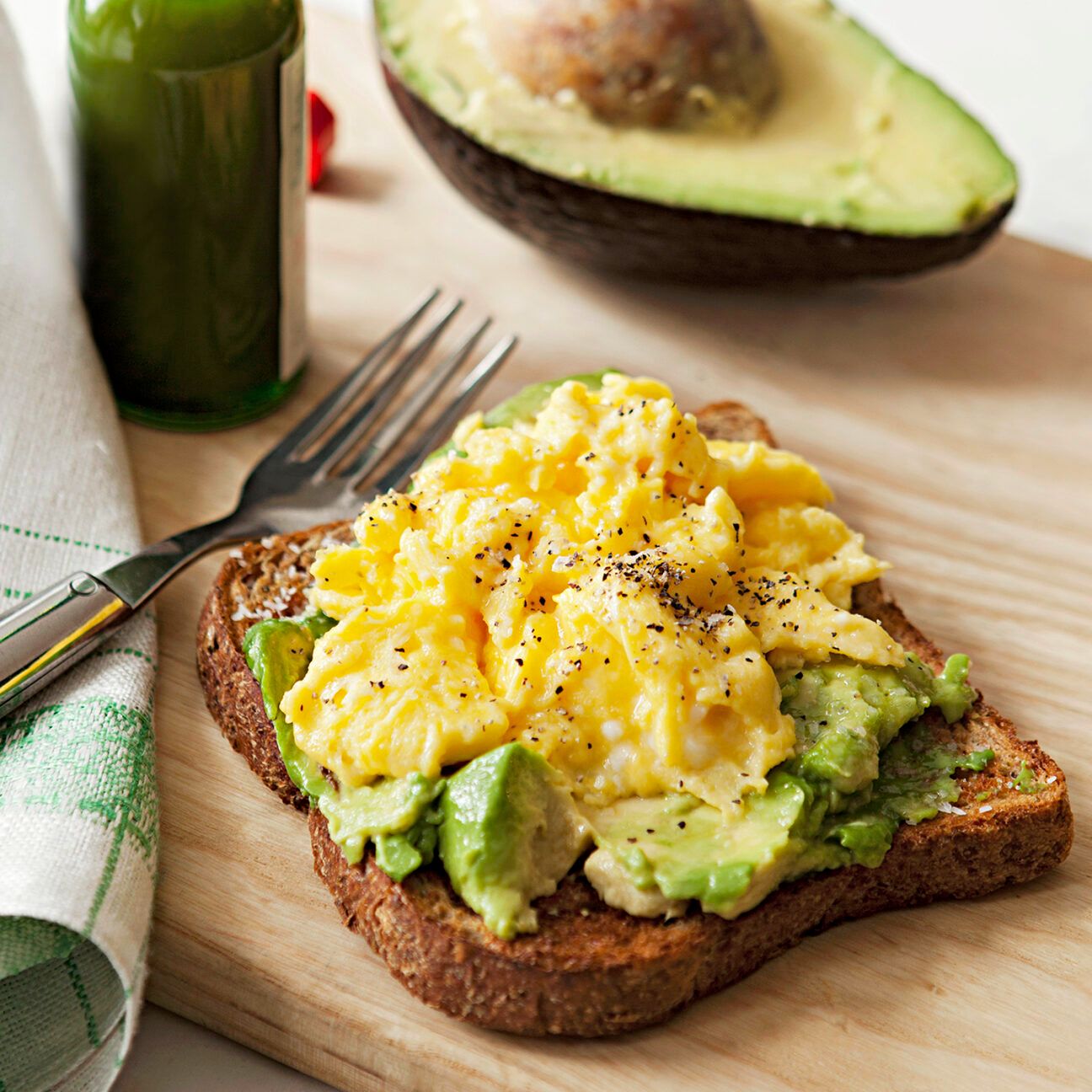 Start to finish: 15 minutes
Makes: 1 serving
Ingredients
2 eggs
1/2 ripe avocado
Pinch of salt and black pepper
1/2 tablespoon fresh lemon juice
2 slices sourdough or gluten-free bread, toasted
Instructions
Grease a frying pan with a bit of olive oil or cooking spray. When it's hot, scramble eggs for 1–2 minutes, or until fully cooked. (For an easier and more even scramble, you can crack the eggs into a bowl, mix them, and then pour them into the pan when it's hot.)
Mash avocado in a small bowl. Add salt and pepper, then add lemon juice and mix with a fork or spoon.
Divide avocado mash between toast slices and spread evenly.
Top toast with scrambled eggs.
Strawberry, cucumber, and feta salad
This strawberry, cucumber, and feta salad is super refreshing and nutritious, and it takes less than 10 minutes to make — a great option for when you're on the go.
You may want to substitute canned pears for strawberries if you are sensitive to the seeds or peel the cucumber if either of these are triggers for you.
For extra protein, we recommend topping the salad with sliced grilled chicken breast.
Start to finish: 10 minutes
Makes: 1 serving
Ingredients
1 cup sliced fresh strawberries
1 cup sliced cucumber
2 tablespoons crumbled feta cheese
1/2 tablespoon olive oil
1/2 tablespoon apple cider vinegar
1 grilled chicken breast (suggested)
Instructions
Add strawberries and cucumber to a salad bowl.
Top with feta.
Drizzle oil and vinegar over salad and toss gently.
Slice chicken breast, if using, and add to top of salad.
Meat and vegetable roll-ups
Meat and veggie roll-ups are another easy lunch you can throw together in less than 10 minutes.
These fun finger foods use low FODMAP vegetables to help you manage symptoms of Crohn's disease. You can make them ahead of time and keep them in the fridge overnight, or you can enjoy them immediately after assembling them.
Thanks to its minimal ingredients, this dish can be particularly helpful for managing flare-ups. You may want to peel the veggies or substitute for any of these if they are triggers for you.
Start to finish: 10 minutes
Makes: 1 serving
Ingredients
low FODMAP vegetables (such as cucumbers, celery, carrots, or bell peppers)
deli-sliced ham or turkey breast
Instructions
Slice vegetables into matchsticks or small pieces.
Place a handful of vegetable slices onto 1–2 slices of deli meat, then roll into a burrito shape.
You can add toothpicks to hold the rolls together or eat them as they are.
Baked lemon chicken and sweet potatoes
This no-fuss dish comes together in just one pan and is easy on your stomach but full of flavor.
Lean proteins like chicken are generally well-tolerated by people with Crohn's disease. Plus, sweet potatoes are full of vitamin A. The turmeric in this dish adds anti-inflammatory properties, which can be helpful for settling down a flare-up.
Start to finish: 1 hour, 30 minutes
Makes: 3 servings
Ingredients
3 large sweet potatoes
1 cup low sodium chicken broth
1/2 cup fresh lemon juice (from 2 large lemons)
1/4 cup olive oil
1 teaspoon ground turmeric
1 teaspoon dried oregano
1/2 teaspoon salt
1/2 teaspoon pepper
3 boneless, skinless chicken breasts
Instructions
Preheat oven to 400°F (200°C).
Peel sweet potatoes to reduce their fiber content, if you'd like. Cut sweet potatoes into cubes.
Combine broth, lemon juice, oil, turmeric, oregano, salt, and pepper in a mixing bowl and whisk together.
Arrange sweet potatoes in a 9 x 13 baking pan. Place chicken breasts over sweet potatoes. Pour lemon mixture over chicken and sweet potatoes.
Roast in oven for 1 hour.
Crispy baked peanut tofu
With minimal prep required, this largely hands-off recipe is easy to make and friendly to those on vegetarian diets as well as those with Crohn's disease.
It also allows you to enjoy crispy foods without frying, since fatty or greasy food can be a trigger for flare-ups or symptoms of Crohn's disease.
Start to finish: 1 hour, 40 minutes
Makes: 2 servings
Ingredients
12 ounces extra-firm tofu
3 tablespoons coconut aminos
3 tablespoons water
2 tablespoons natural peanut butter (or nut butter of choice)
2 tablespoons stevia (with no erythritol or inulin added)
1 tablespoon grated fresh ginger
1 zucchini
Instructions
Press tofu to get rid of water (you can do this by wrapping it in paper towels and placing a heavy bowl or pan on top of it for about 30 minutes). Cut tofu into 1-inch cubes.
Combine coconut aminos, water, peanut butter, maple syrup, and ginger in a mixing bowl and whisk together.
Pour mixture over tofu cubes. Cover and refrigerate for 1 hour.
Preheat oven to 400°F (200°C).
Slice zucchini.
Spread marinated tofu and sliced zucchini on a sheet pan. Spray with cooking spray for extra crispiness.
Bake for 30 minutes, or until tofu and zucchini are crispy around edges.
If you're looking to add some carbs to any of the above meals, try oats, brown rice, amaranth, quinoa, or other gluten-free products.